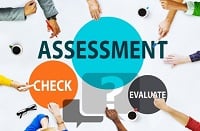 Pre-hire assessments are important parts of the recruitment process that evaluate the candidate's technical abilities and behaviours related to the position being applied. They are a predictive method of measuring how candidates perform tasks by using science. They can be surveys, tests, or questionnaires that potential candidates need to do as one stage of the hiring or interview process. These assessments can predict the candidate's future behaviour while performing the job.
Read more: 5 Reasons Why You Should Not Refrain from Recruiting Fresh Graduate
Examples of the pre-hire assessments can include several of the following types: written forms, basic literacy and numeracy tests, and even physical and fitness tests, applied for some special health-related jobs (such as military or police).