Ho Chi Minh City – Last Sunday, 1st December 2013, TRG made its entrance in the University of Economy and Law (UEL)'s career day for the first time ever. This is one of many annual activities from TRG to help students and fresh graduates learn about career opportunities and future working challenges for them to prepare to be their best.
The event attracted more than 1,700 students and fresh graduates. It also featured some expert panels from many companies, including TRG, to discuss industry trends, career pathways and the current job market.
TRG's current GDP (Graduate Development Programme) team also attended to network and introduce TRG International as well as our GDP programme to students. Students and fresh graduates were also provided the opportunity to learn about the recruitment process at TRG; and joined the game "Finding the Client" created by the GDP team.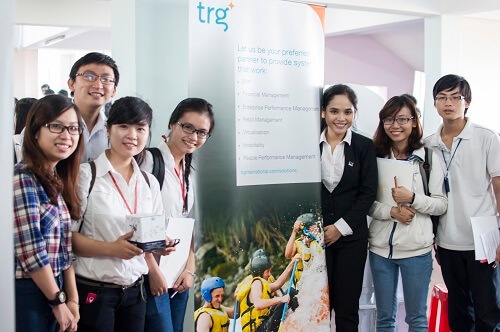 TRG GDPs and Students at TRG's booth
Mr. Bang, BIS assistant in our GDP programme, also an UEL alumnus, shared his experience: "It's exciting to go back to my old university as a TRG's employee. I hope to deliver some inspiration to students today, and motivate them to become better in the future."
"TRG has a strong emphasis on support and guides young people, especially fresh graduates, with our GDP programme to provide them core skills and capabilities to help them achieve their career goals, and ultimately, career success in the future." Mr. Rick Yvanovich, TRG's Founder and CEO said about the event.
About Our Graduate Development Programme
Graduate Development Programme (GDP) is a program by TRG for fresh graduates in any business and IT major including: Marketing, Commerce, Business Administration, Accounting, Business Information System, IT, Multimedia Design, English and more. The program aims to provide solid and strong foundation of skills, expertise and capabilities for future career development of each graduate. TRG believes all GDPs will not only go far with the company's supports, but they also play an important role in the company as any other employees and will help deliver best values to the company in the future. To find out more about our program, please visit: trginternational.com/careers/internship-programme.
About TRG
TRG is a market-leading global professional services firm focused on delivering technical excellence. TRG adds value in a challenging and dynamic market by delivering the right IT solutions to work quietly and brilliantly in the background, freeing our customers up to focus on their core. We do this by hiring people we believe in, and who believe in TRG, and empowering them with the skills and processes to outthink our competitors and deliver genuinely better solutions for our customers. We are a genuine consultant and partner who deeply understands the challenges of our customers business and is always ready to go the extra mile to deliver exactly the right solution for them. It's not about what we sell, it is all about how we think. Our solutions include: ERP, Financial Management, Enterprise Performance Management, Retail Management, Virtualisation, Hospitality and People Performance Management. To discover more about TRG, please visit www.trginternational.com