It is estimated that by 2020, the world will have more than 20.4 billion connected devices, creating one enormous intertwined network called the Internet of Things (IoT). In hospitality, IoT can be the key to achieving a complete personalised guest experience at an optimised operating cost. Embracing IoT's endless possibilities can certainly help hoteliers create a good head start in their digital transformation journey.
How will you leverage IoT for your hotel?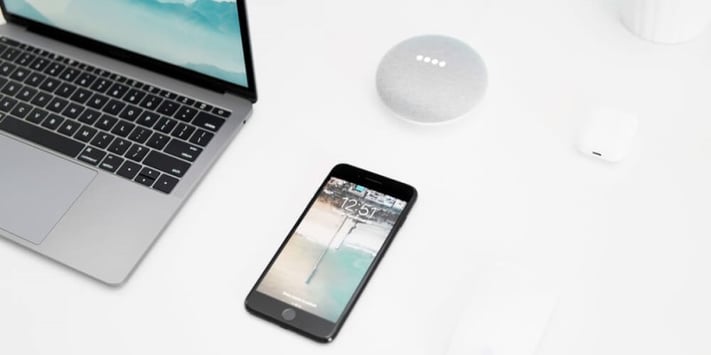 How can you apply the Internet of Things in hospitality?
IoT represents the ability to connect any physical object with the internet. It has been used in many household appliances in (what we call today) "smart houses".
Many hotels have already implemented some forms of IoT to centrally monitor guest room temperature through sensors installed in the thermostats or HVAC systems. This allows hotels to reduce the energy costs of cooling or heating vacant rooms.
Furthermore, IoT plays a critical role in providing utmost comfort, seamless hospitality experience and a luxurious stay for the guests by utilising the data acquired during their previous stay.
Personalising the guest experience
Once the guests enter the hotel, they will instantly receive a welcome notification that includes all the services offered, their rewards, incentives as well as other activities and events happening during their stay.
The guests can unlock their rooms, adjust the temperature and lightings, order room services etc. from their own smart devices. In addition, the hotels can install a virtual assistant into each guest's TV, or place other voice command devices, such as Amazon Alexa, in the room, to communicate with the guests with minimal friction and maximum accuracy.

Maintaining facilities, cutting down on unwanted expenses
As mentioned above, almost all room features, from in-room lightings, temperature, to curtains, shower, TV and housekeeping, can be easily and centrally monitored. As such, towels, bed sheets and laundry requests can be quickly fulfilled. Power is automatically turned off if the guests leave the balcony door open, or they've left the room. This, in turn, helps the hotels to cut down on energy costs.
Furthermore, IoT can help hotels to save even more through predictive analytics — a forecasting capability that predicts the time that issues might occur to a piece of equipment. Hotels can avoid embarrassing moments by the appliances breaking down or any last minute rearrangement just because the facilities are not well maintained.
Read more: What is Predictive Maintenance (PdM)? Its Pros and Cons
Tracking and managing inventories
One of the challenges that modern hotels face is how to automate front desk tasks. Up until now, the front office still manually inputs entries into their property management systems.
Read more: Key Concepts in Revenue Management: Relevant Data and Intelligent Pricing
IoT can revolutionise how hotels track and manage their inventory, item by item via remote scanners and other high-tech devices. Smart equipment enables the staff to keep tabs on inventory automatically, freeing up their time, allowing them to work more productively and efficiently on other demanding tasks.
Meeting guests' demands and expectations
Consumer behaviour changes over time. In a customer-centric industry like hospitality, the consumers expect an easy interaction with the hotels just like how they interact with others at home.
The network of connecting devices brings back tons of data. This data then can be analysed to identify the guest's behaviour patterns, which allows hotels to offer the most relevant, up-to-date services and activities based on the guests' preferences and past behaviours.
Security challenges when implementing IoT
In order to fulfil the promise of providing a seamless front-end service, the hotel needs a frictionless back-end support with tight security and adequate data management. Having said that, many IoT-supported devices were manufactured without cyber protection in mind, making them vulnerable to threats. Hackers can infiltrate through the appliance networks and invade the hotel's digital infrastructure.
However, this shouldn't be a hindrance for any hotel to adopt IoT. Rather, hotel executives should leverage this technology to leap forward.
We're living in an era where digital and physical worlds collide, but instead of destroying each other, they coexist. Everything is connected. And by leveraging the right tools, setting up the right ambience with the right amount of automation, and added layers of security, you're making your hotel appear to be the expert of the industry which can result in building brand loyalty and creating new revenue streams.