A quick search on the internet can give us tons of examples of companies that possess admirable employer brand from Google to L'Oreál, Cisco, Microsoft, Hubspot, Marriott, etc. Their corporate photos and videos can make any job candidate drool.
TRG believes that employer branding is necessary for every business, regardless of size. A positive employer brand needs to be reflected in the way companies recruit talents and how companies present themselves to the public.
We build the TRG brand through incremental small things. The initiatives are driven by our team members. At TRG, we aim at building a strong presence both online and offline.
Improve candidate experience
Interestingly, a company can cultivate a sizable pool of "loyal fans" who have had a positive candidate experience throughout the recruitment process with the company. In the journey of building an employer brand, the candidate experience plays a critical role and should be among one of the top priorities in the company's talent acquisition strategy.
Many employers "ghost", or neglect, their job applicants after a few rounds of interview (or even immediately right after the candidate applied for the job). You may also have experienced similar situations.
At TRG, we apply psychometric assessments in the pre-hire phase of the recruitment; we call this the "job fit" phase where we evaluate how well an individual "fits" in a particular position through a series of behavioural, numerical, and verbal questions.
We believe that utilising pre-hire assessments results in a fair judgement about candidates, eliminates any possible cognitive bias, which tends to arise during the screening phase. Pre-hire assessments also generate more reliable outcomes as the assessments are scientifically proven. Using these assessments, in conjunction with face-to-face interviews, increase our chance of acquiring higher quality and more suitable talents.
Promote employer brand on social media platforms
Social media is a simple, fast, and affordable way to promote a brand. Some businesses even take a step further to create their own unique hashtags to trace their visibility. These digital platforms are also extremely helpful in attracting candidates and improving the hiring process.
At TRG, we are most active on Facebook and LinkedIn. We take full advantage of these two platforms to promote our events, updates our "followers" on the latest business trends, and of course, we advertise our current vacancies on these platforms as well.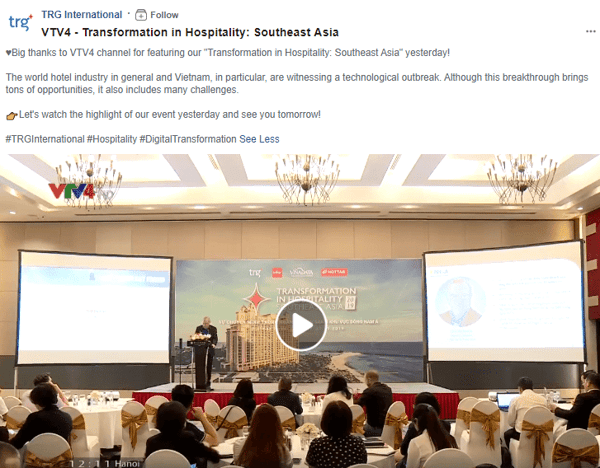 Reinforce employer brand with event branding
Our Event Marketing team at TRG frequently organises events with topics revolving the latest trends in talent management, technology, and project management. We name our events "TRG Talk," which take place right at our office in District 2.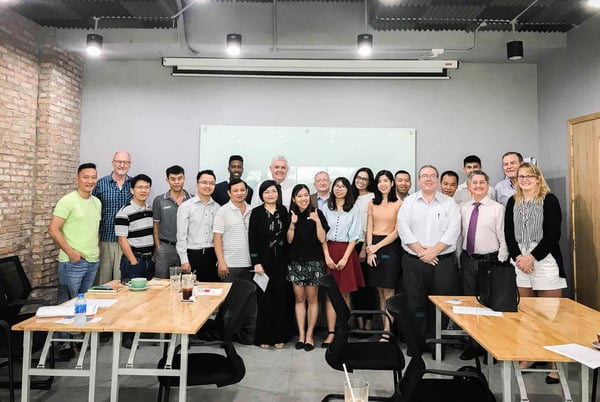 Speaker and attendees at one of our TRG Talks on Project Management
Our Talks are open for the public to join, and we always welcome new speakers to join our network and speak at our events.
TRG also frequents career fairs and career days hosted by universities in Ho Chi Minh City. Our most recent activities were at RMIT University, International University, and Vietnamese-German University. We even organise our own Walk-in Interview sessions to attract talents for our F&B brand, and we have a dedicated section on our website for our interns to express their experience or general information an intern needs to know when coming to work at TRG.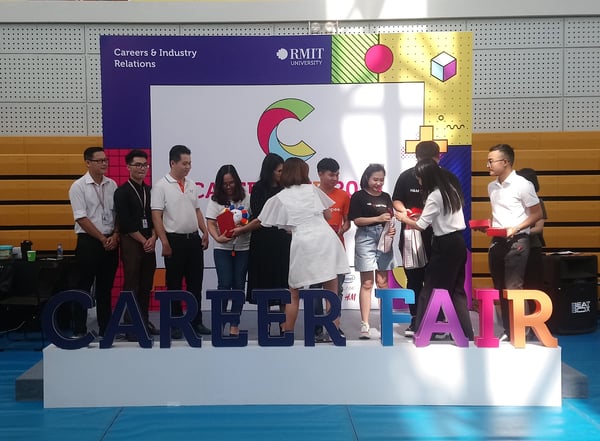 TRG at RMIT University Vietnam Career Day
Make the brand more attractive with Corporate Social Responsibility (CSR) activities
CSR activities, when done right, can help companies to reinforce core values, gain exposure, and keep employees engaged.
Many choose to participate in annual charity events hosted by AMCHAM, BBGV and CANCHAM, such as the BBGV Fun Run and the Terry Fox Run, which are open to the public. TRG members really enjoy being a part of these fun runs and participate every year.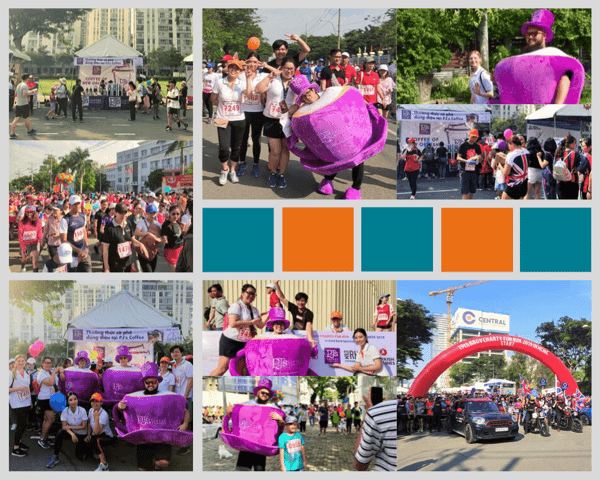 TRGers and PJers at a BBGV Fun Run for Charity
We also take part in donating blood regularly through various programs organised by business chambers in Vietnam and the Blood Transfusion Haematology Hospital of Ho Chi Minh City.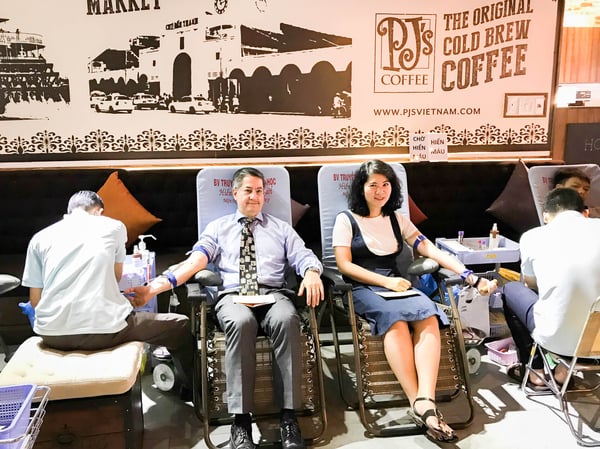 TRG Founder and CEO, Rick Yvanovich, donates blood at least once a year
Every year, our CSR team also takes some time away from our busy schedules to arrange a charity trip to deliver essentials to families in need in remote areas around Vietnam. Our latest trip was to Dak Phoi province in Dak Lak right before the Tet holidays.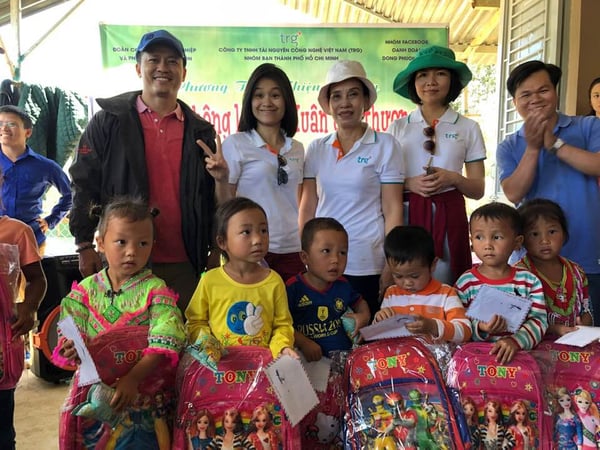 Corporate internal events also matter
Many overlooked the benefits of internal employer branding. Internal events can increase engagement, support interpersonal relations, and help managers to acquire feedback.
For example, to close the gaps between employees and managers, TRG sets aside a budget for birthdays, project wrap-ups or other celebrations.
Team dinner of TRG Deliver team
Team building exercises and activities are also great examples of internal events. Team building activities do not need to be limited to a one-day trip to somewhere, or a workshop about team engagement. Companies can add their own flair into these exercises to make it suit the company image.
For example, at our Team Building last year, TRG had a series of "warm-up" activities where the entire organisation was mixed up and divided into six groups. Each week, one group would announce a challenge and the remaining groups had to accomplish the challenge within the time limit. 
The Team Building Committee also tasked all six groups with the responsibility to decorate the company to celebrate Tet holidays.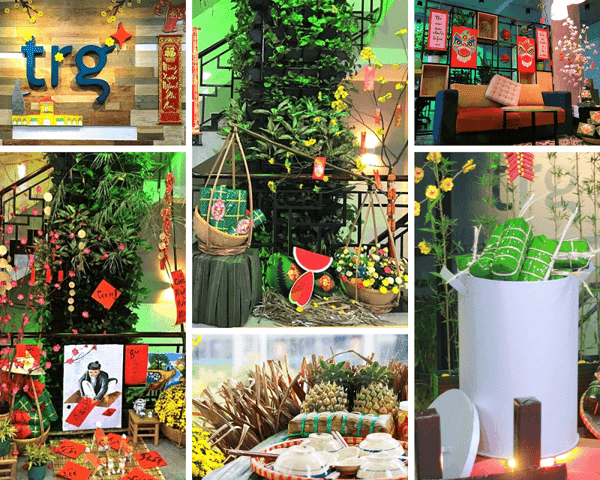 Tet decorations - One of the various team building challenges at TRG
These are simple yet fun activities, and the Team Building Committee empowered everyone to unleash their inner creativity, allowed everyone to take charge of an exercise.