Infor OS serves as the foundation for your entire enterprise ecosystem, providing seamless integration between systems, a unified user experience across all applications, and organisation-wide visibility into the real-time information you need to drive your business.
Infor OS is more of a package of several products working in synchrony. What are they, and how do they work? Read on to understand the endless possibilities companies can reap from these solutions.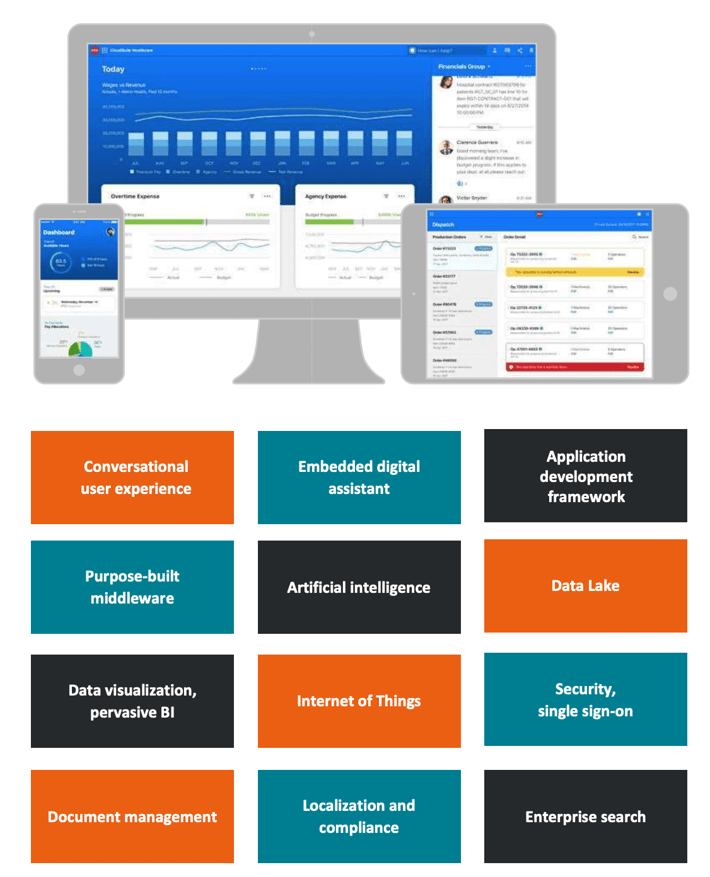 Infor OS comes with a myriad of built-in applications to serve practically your every need.
Infor Birst Business Analytics
Basically, it is a networked (cloud) business intelligence and analytics platform, which delivers meaningful insights for everybody. It makes business analytics easier to consume with useful information/content implanted wherever people need them. Moreover, Infor Birst can reduce manual tasks with automation, utilise all styles of analytics or share them with customers, suppliers.
Birst's networked BI virtualises the entire BI ecosystem, transforming every aspect of an organisation's approach to analytics. Built on top of Birst's modern, multi-tenant native cloud architecture, networked BI automates the creation of a set of interwoven BI instances that deliver a shared version of the truth. The result is enterprise-grade scalability with unprecedented speed and end-user freedom.
On top of the shared version of the truth, Birst provides an adaptive user experience, supporting all styles of business analytics.
Infor Coleman AI
Named after the talented mathematician Katherine Coleman Johnson, Infor Coleman AI is a machine learning, chat, voice, and image recognition robot used to automate tasks, anticipate potential problems, and suggest the next-best actions. With the help of Coleman, AI projects become less complex and you do not have to worry about unpredictable service engagements. Being built on the foundation of the Infor OS platform, Infor Coleman makes all complex technologies (e.g.. machine learning, voice user experience) reachable.
In general, Coleman AI has some main key features as follows:
Playing a role as a single space for all AI projects in the organisation.

Integrating AI insights with logic and custom applications.

Enabling project implementation faster.

Becoming an interface that brings AI power to business users.
Additionally, Coleman AI provides chat-based queries, processing and inquiries. For example:
Coleman, run Ledger Import

Coleman, what's the balance for account AB12300

Coleman, drill down to Journal Number 120
Infor Ming.le
Infor Ming.le is a comprehensive platform for social collaboration, business process improvement and contextual analytics. Its innovative social media concept enables an employee to work more effectively as it combines social communication and business processes. The major difference between Infor Ming.le and other information-sharing technologies is Ming.le is fully embedded with the organisation's main systems, for example, ERP and accounting software. 
The main function of Infor Ming.le is to provide a centralised platform for collaboration among users. The application organises conversations into enterprise-wide streams; share key screens, data, and attachments. Employees work more effectively from across the enterprise with relevant data displayed automatically based on the context of discussions.
Check out the Infor OS master class on TRG Academy where you can get involved in practice navigating the platform and its myriad of powerful, built-in applications.


Sign up to learn today >>>
Infor Intelligent Open Network (ION)
Infor ION is a powerful middleware that enables seamless integration of Infor and non-Infor systems to happen.
In most cases, a system primarily serves one particular business function – finance, production, procurement, sales, etc. A lot of business processes, on the other hand, are interdepartmental. This makes automated workflows much harder to achieve.
An advanced middleware application should be able to allow systems to operate as a unified whole and to remain independent at the same time. Information is no longer siloed but flows more freely across systems. Interdepartmental processes can be automated more easily, which consequently will result in improved productivity and lowered costs.
Users can create and monitor workflows to improve exception management. ION can also connect applications to events in your business process, especially if one application is replaced or even fail, there will be no negative effects to the entire network. Information is accessible in real-time, and system maintenance is less costly and complex.
Besides, by including workflow, the system can push approvals and alert the appropriate people to speed up their resolution when problems arise. The system allows you to keep track of every person in the workflow and automatically holds everyone in the workflow responsible for their role.
Infor Data Lake
Infor Data Lake integrates all of your data on CloudSuite, Internet of Things, documents, third-party application data… into just one repository, allowing you to utilise your data sources to the fullest.
Infor Data Lake provides customers with many advanced functions such as data ingestion with Infor ION and Infor ION API Gateway, metadata management by Infor Data Catalog, and powering new data warehousing strategies. Users can access and consume data that meet their varied needs (APIs, SQL, Elastic Search, etc.).
Infor Data Lake, however, still has its own limitations. It requires data analytical skills from users to use a variety of raw, unprocessed data effectively.
According to the new approach to process data of Data Lake, ELT is the future of big data and BI applications. Hence, to get more success for your organisation in the future, it is necessary for you to dip into the Data Lake as soon as possible.
Infor Document Management
Infor Document Management (IDM), as an integral part of Infor OS, enables you and your team to work with the most accurate and up-to-date information. Infor Document Management is a central repository where you can maintain your common business rules for creating documents, as well as all of your documents.
Infor Document Management uses soft links, based on document metadata, to provide your accountants with tight integration between your documents and, for instance, SunSystems.
Since Infor SunSystems 6.3, users can view and attach business documents in context to the records on which they are working, or click on a document link and Infor Document Management will retrieve the document from the central repository.
For instance, when users open a Sales Order record, they can also see the associated sales order document on the same screen (Photo below). Users can also share documents with Infor Ming.le.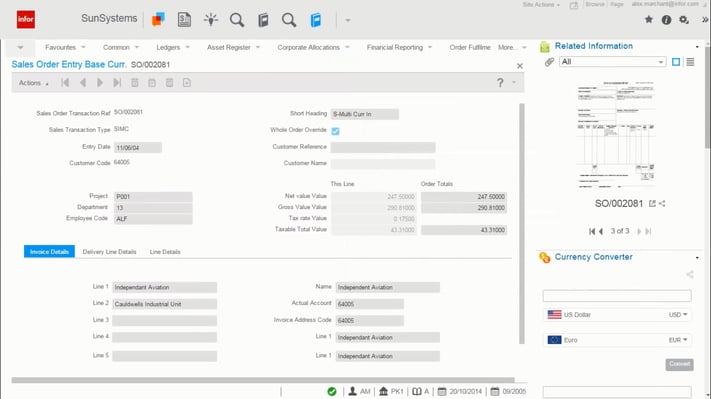 Infor Mongoose
It is a development platform optimised for desktop or tablets/smartphones that allows users to quickly create an app for their business.
To do so, Infor Mongoose provides you with a core working application, and from that, you can add new functionalities, modify it, or do whatever you want to. 
Once done, Infor Mongoose will automatically publish your application for desktop, tablet, and smartphone interfaces. It will also take care of the upgrade and update of the application automatically on your behalf. 
Customers can develop strong enterprise capabilities based on enterprise needs, whether it is an intuitive, consumer-grade web interface or a high-productivity form, with minimal coding, Infor Mongoose can help them create the right experience.
Producing feature-rich applications that are automatically upgradeable and deployable on-premises or in the cloud, Mongoose is a low-cost, unified development platform.