The graph below details the areas of responsibilities that any proper HR department has to encompass.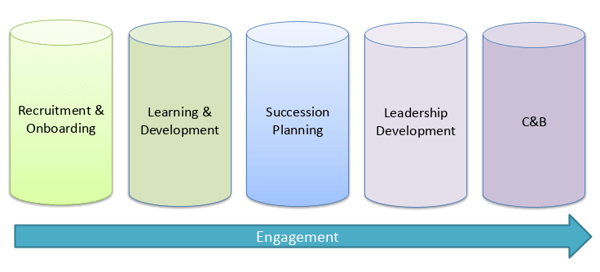 The ability to obtain and adequately plan out all five activities will enable the HR personnel, managers and leaders to achieve the maximum level of employee engagement, which will ultimately increase the retention rate and decrease expense spends on hiring.
The Vietnamese/ South East Asian job market
The economic growth in the South East Asia region is expected to increase slightly throughout the year, and the unemployment rate also starts to show sign of declining.
The results in a recent study conducted by Jobstreet on the job outlook for the South East Asia region revealed that the majority of the participants has the intention to recruit more people. However, at the same time, the employers expressed the difficulty in acquiring quality candidates. Finding talents to fill upper management positions is another challenge.
Companies are also facing the crisis of losing quality talents if they keep relying on the traditional method of attracting talents. The modern candidates want more than just a competitive salary package; they want to know if their future employers are as good as what they promise.
How traditional interviews are flawed
The majority of job interviews are unstructured, open-ended with no standardised questions. The results from these interviews tend to be bias and subjective to the interviewer's judgement.
It is also challenging to predict the candidate's performance. Despite the recruiters, and even the managers, believe they are good at evaluating others, our cognitive biases (a "brain flaw" we have when we process information or make a judgment) can hinder our ability to make fair and accurate decisions.
Nevertheless, unstructured interviews remain popular and are the HR personnel's "best friend" due to many reasons. There are certainly better alternatives to traditional job interviews that the organisation and the HR department should consider, such as pre-hire assessments, Job Fit solution, or psychometric assessments, to name a few.
Further reading:
The importance of candidate experience
Candidates these days are getting more and more selective when it comes to job seeking. With just a few mouse clicks, your potential top performers, a.k.a. the candidate, will be able to acquire any bit of information about your company. Indeed, modern candidates do not blindly apply for any job ad they see.
Thus, amidst today's war for the best talents, companies present themselves as a "product" and put in heaps of effort in attracting new people. Playing a vital role in this process of branding is the candidate experience - how you, the employer, make a positive, lasting impression on the job seeker's mind.
For a candidate to have a good perception of the interviewer/ the brand/ the potential employer, organisations need to be aware of the ideal candidate persona that they are aiming for and their candidate journey to maximise your effort of reaching them, and put in extra effort to make the candidate experience more "humanise".
Enhance your employer brand with company culture
A strong and positive company culture acts as a robust foundation to build an employer brand. Having a positive company culture can also differentiate your organisation from the rest and can also help you win top talents.
Building and retaining a company culture will act as a guideline for you to build your employer brand. As digital transformation is becoming the mantra of today's business, it is worth to remember that more than an upgrade of your IT system, digital transformation is also a cultural change.
What does this mean to the HR department? It means your HR personnel can now also experience emerging technologies, such as Artificial Intelligence, machine learning or Big Data to improve various aspects of talent management.
However, there are particular challenges that come with implementing advanced digital tools in day-to-day HR activities:
Further reading: