InformationWeek Reports and Interop Select VDI-in-a-Box as Leading Innovation at Interop Las Vegas
Citrix Systems, Inc., today announced that Citrix VDI-in-a-Box™ has been selected as winner of the 2012 Best of Interop Award in the Cloud Computing and Virtualization category.
The winners for the 2012 Best of Interop Awards were hand-selected by award-winning editors and analysts from InformationWeek Reports. There were more than 130 candidates for Best of Interop consideration in eight different technology categories. The Best of Interop Awards recognize exhibitors that have made significant technological advancements in specific category areas. The winners in each category represent the products that the judges believe have the most significant technical impact on their segment and are helping to move business technology forward.
Delivering Simplicity and Affordability
Citrix VDI-in-a-Box is a simple all-in-one VDI software appliance that enables Windows® administrators to rapidly deliver centrally-managed virtual desktops to any user, anytime, on any device – for less than the cost of new PCs. VDI-in-a-Box provides built-in high-availability and eliminates over 60 percent of traditional VDI infrastructure—including management servers and shared storage (SANs) – by creating a grid of off-the-shelf servers using local storage. Citrix announced at Citrix Synergy™ last week a technology preview of Project Aruba will extend the simple affordable all-in-one Citrix VDI-in-a-Box with personal vDisk technology to reduce costs by delivering highly personalized virtual desktops with the cost-efficiency of desktop pools.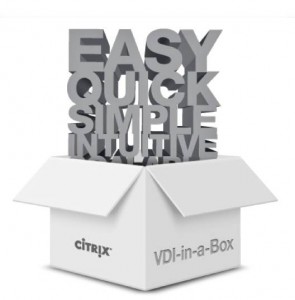 "Businesses of all sizes want to adopt desktop virtualization and realize its benefits of driving efficiencies, improving business continuity and enabling mobile workstyles for their employees," said Krishna Subramanian, vice president of marketing and partner engagement at Citrix. "Winning the Best of Interop award is a testament to the impact VDI-in-a-Box is making to desktop virtualization by addressing cost and complexity – the two major roadblocks to mass adoption."
"The Best of Interop Awards presents leading edge technologies of the outstanding IT vendors in the industry," said Art Wittmann, vice president and director, InformationWeek Reports. "Each of the category winners represent a true commitment to innovation in business technology and deserve recognition for helping build and strengthen today's IT marketplace."
The Best of Interop Awards were announced during this year's Interop Las Vegas, which took place May 6-10 at the Mandalay Bay Convention Center. For more information on Best of Interop categories and awards, visit www.bestofinterop.com
About TRG International
TRG International is an independent provider of business and performance solutions and supports thousands of users in 70 countries. Clients range from small domestic companies to large multinational companies in both the private and public sectors.
About Citrix
Citrix Systems, Inc. (NASDAQ:CTXS) transforms how businesses, people and IT work in the cloud era. Market leading products for collaboration, virtualization, and networking allow Citrix to enable mobile workstyles and power cloud services for 100's of millions of people every day. We service over 260,000 organizations with over 10,000 business partners in 100 countries. Annual revenue in 2011 was $2.21 billion. Learn more at our company headquarters at www.citrix.com.
To find out more about desktop virtualisation, download Citrix VDI-in-a-Box brochure here.
Source: citrix.com