Ho Chi Minh City, 17th April – TRG again sponsored an RMIT Vietnam Career Networking Night, this time held at the Hotel Nikko Saigon yesterday. Over 200 hundred RMIT students from different majors and 30 companies attended the event. This is one of many career activities TRG attends as sponsor/speaker that aims to help both RMIT undergraduates and alumni learn about career opportunities.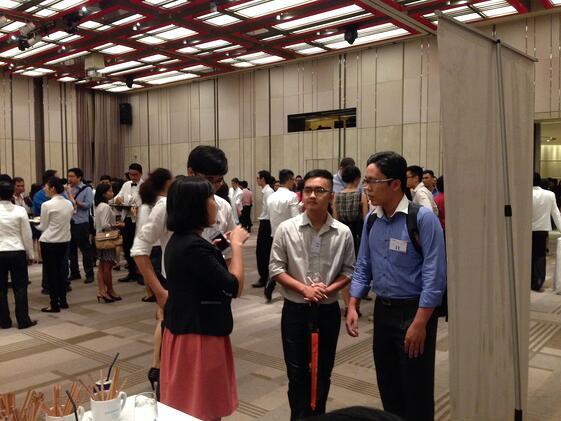 TRG staff speak with students at the event
At the event, many of TRG's employees who are RMIT alumni, helped man the TRG booth and discussed with students and graduates about their future career paths, and shared who we are, what we do and how we think to achieve personal goals.
Sponsoring this event, TRG continues its support for RMIT students as well as attracting future talent. Interns and new-graduates at TRG are trained and developed with hard and soft skills in our Graduate Development Programme which aims to deliver what we believe is a great start for freshmen to give them a solid base of knowledge and employability skills for their future career.
"In TRG, we believe in lifelong learning and offer an environment of mutual support where you are given the freedom to grow, make mistakes and become better. We'll support, guide and encourage you for your personal development. Many people have matured and grown strong from these programs, and we are proud to know that they are successful in their own career path, in any industry in Vietnam and the region, and of course, in TRG as well" said Mr. Rick Yvanovich, TRG's Founder and CEO, sharing his thoughts about the event.
About TRG
We are genuine consultants and a partner who deeply understands the challenges of our customers' business and is always ready to go the extra mile to deliver exactly the right solution for them. It's not about what we sell; it's all about how we think. Let us be your preferred partner to provide systems that work: ERP, Financial Management, Enterprise Performance Management, Retail Management, Virtualisation, Hospitality and People Performance Management. To discover more about TRG, please visit www.trginternational.com