On 26th June 2015, Amcham ICT Networking Event Tech Start-Up's Vietnam ended successfully with 40 participants. The event was hosted by American Chambers of Commerce (Amcham). Speakers and panelists are from well-known tech enterprises, including Mr. Seck Yee Chung (Partner, Baker & McKenzie Vietnam), Mr. Anh Minh Do (Managing Editor in Vietnam for Tech in Asia), Mr. Aaron James Everhart (co-Founder Hatch!Program), Mr. Rachan Reddy (General Partner, IDG Ventures Vietnam) and Mr. Edward Thai (Managing Partner of Vietnam Accelerator Fund).
Vietnam tech market is currently considered as a fast growing emerging market for tech companies and this sector is the highest margin sector with strong ROI potential with his research and statistics. Through this networking event, speakers provided a lot of in-depth information about Vietnam tech scene and regulation framework.
Mr. Rick Yvanovich, CEO of TRG International, Chairman ICT Groups of Amcham Vietnam, was introducing the event and speakers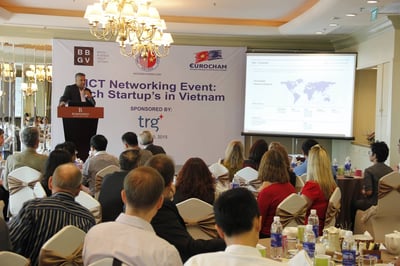 Mr. Rachan Reddy was explaining about IDG Ventures Vietnam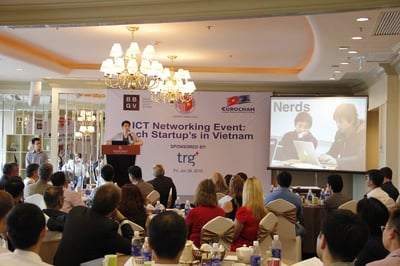 Mr. Anh Minh Do was sharing three things about Vietnam Start-ups Ecosystem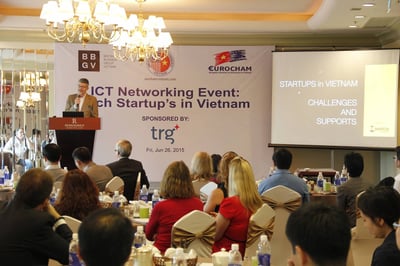 Mr. Aaron James Everhart was sharing the Definitive Guide to the Vietnam Start-up Scene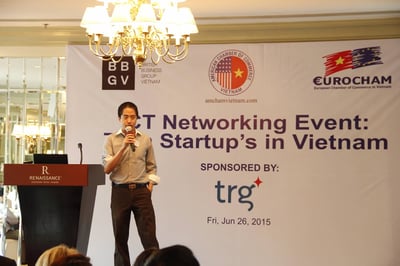 Mr. Edward Thai was showing 5-point Update on International Sentiment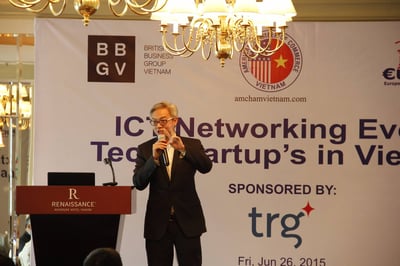 Mr. Seck Yee Chung was talking about Tech Start-ups Regulation Framework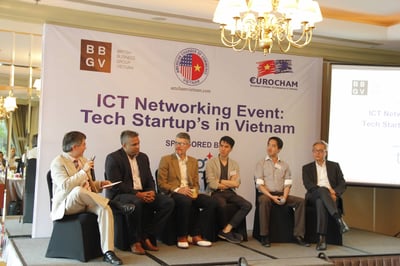 Mr. Rick and speakers were answering questions about Tech Start-ups in Vietnam
The event was co-hosted by BBGV and Eurocham, and proudly sponsored by TRG International. The event gave a great overview of Tech start-up in Vietnam through each speaker's presentation. Participants was happy since they learnt a lot of tech start-ups insight from experts and they could raise their concerns and discuss with other start-ups.
About TRG International
TRG International is a market-leading global professional services firm focused on delivering technical excellence. The company has been successful for more than 20 years in providing SunSystems for finance and accounting systems. TRG International adds value in a challenging and dynamic market by delivering the right IT solutions that work quietly and brilliantly in the background, freeing our customers up to focus on their core. We are a genuine consultant and partner who deeply understands the challenges of our customers' business and is always ready to go the extra mile to deliver exactly the right solution for them. It is not about what we sell, it is all about how we think.
Our solutions include: Financial Management (Infor SunSystems), ERP (Infor LN and Infor Cloudsuite Industrial SyteLine), Dynamic Enterprise Performance Management (Infor CPM), Hospitality (Infor SunSystems for Hotels), Retail Management (Retail Pro 9), Virtualisation (CItrIx) , Professional Service Management and People Performance Management (system@work). To discover more about TRG, please visit http://trginternational.com
About Amcham Vietnam
Amcham Vietnam in Ho Chi Minh City is an independent association of American and International business. With about 500 companies, and more than 1,000 representatives, our membership of manufacturing and sales transportation and logistics, professional and business services, and travel and tourism firms is unified by a common objective to promote trade and investment between Vietnam and the United States.