This new release provides connectivity to SAP and legacy applications.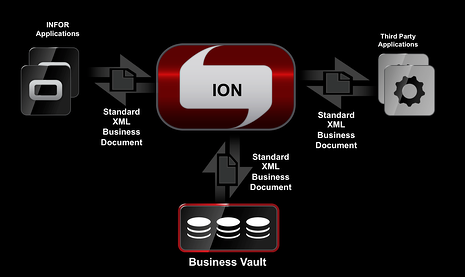 Infor is pleased to announce the general availability of Infor10 ION Suite version 10.2. This is the fourth release of ION, and continues to set the foundation for interoperability, business process management, and more.
ION 10.2 includes 20+ new features focused on:
New connectivity options with SAP which enable Infor strategic applications like PLM, EAM, and WMS to connect to SAP or enable two-tier ERP strategy where corporate financials is SAP and manufacturing is Infor.
New file connector integrates legacy applications or homegrown systems.
Business process management improved with loopback functionality, decision tables, and conditional alerting.
Pulse can now send all activities to Business Vault for business process reporting.
ION ActivityLocator allows end users graphically to see the progress of a specific workflow.
Enables document attachments to tasks and alerts.
Infor has also achieved a major milestone by successfully certifying all available integrations for fully backward compatibility on the global demo environment (GDE) to deliver a durable architecture for the fourth consecutive time. In particular, integrations have been validated for the automotive industry solution, supply chain, and enterprise asset management.
***
To find out more about Infor10 ION suite: