HCM City – July 18 2012 – TRG International will take part in the RMIT Career Expo on July 20th as part of the annual RMIT Career Week.
The company, also one of the event's sponsors, will have an information booth throughout the day and a 1-hour seminar session at noon. The seminar is designed to give students an overview of TRG International and its people, delivered mainly by Pham Hong Thai - Deputy General Director. There will also be RMIT alumni who are currently TRG International employees to share their experience.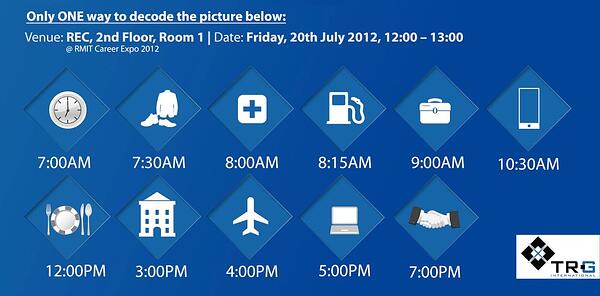 Other activities such as quiz games and taking photos at the Photo Booth will be included to create a fun and energetic atmosphere.
Pham Hong Thai, Deputy General Director of TRG International, says: "Although this is not our first time at RMIT Career Week, we believe that this time we will attract more talented students who wish to grow their full potential with us as they can clearly understand what we do as super heroes".
Updates of this event are to be found on our blog, Facebook, LinkedIn, Twitter
###
About TRG International
TRG International is an independent provider of IT business solutions and supports thousands of users in 70 countries. Clients range from small domestic companies to very large global multinationals in both the public and private sectors.
Visit us