HCM City - 10 Oct 2012 - TRG International joined nearly 300 other donors in the 7th annual blood donation day organised by Saigon Times on 06 Oct 2012.
Fourteen people from TRG International gave blood that day, contributing to the total amount of 337 units of blood collected. The company has also been a close partner of the event over the years.
The Saigon Times blood donation day marked the 21st anniversary of The Saigon Times Weekly and 17th anniversary of The Saigon Times Daily in style, with nearly double the amount of donors and double the amount of blood given last year.
Rick Yvanovich - CEO of TRG International - says: "We believe that the gift of life by Blood Donation is the right thing to do. This is why we again support this annual Blood Donation Day organized by Saigon Times. It is part of our annual CSR calendar and Blood Donation has become a great habit for many of our people".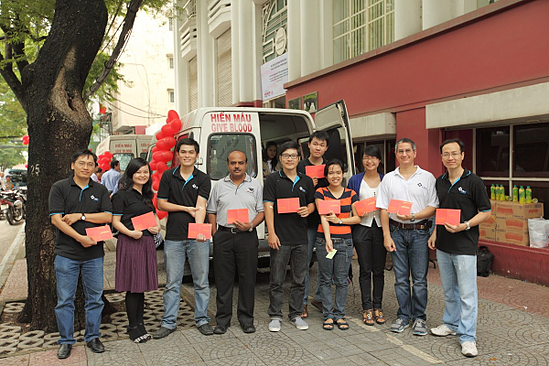 TRG International staff after giving blood at Saigon Times' office, District 1
###
About TRG International
TRG International is an independent provider of IT business solutions and supports thousands of users in nearly 70 countries. Clients range from small domestic companies to very large global multinationals in both the public and private sectors.
Visit us