HCM City - 01 November 2012 - TRG's management and staff gathered to celebrate the official rebranding event at its headquarters in District 1.
After months of preparation, TRG finally revealed its new look, which feels more innovative, modern and youthful. The new brand closely reflects the company's vision "Guiding your business to greatness everyday". It also conveys the characters of TRG's staff: passionate, creative, professional whilst working quietly and brilliantly in the background.
As part of the rebranding campaign, TRG has launched a new corporate website as well as refreshed all of its stationery and office appearance.
Rick Yvanovich - CEO of TRG - said: "We all are very excited. After 18 years, we felt that it was time to refresh our brand to accurately and closely reflect why we do what we do".
Long Huynh - Professional Services Director - said: "Being a 16 year TRG veteran, this is the first rebranding I've witnessed. I feel very positive about this change".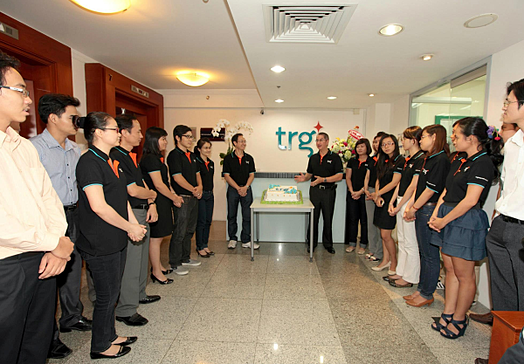 TRG's staff line up as the CEO announces the rebrand
###
Our Mission is to be your preferred partner providing systems that work. Visit us at www.trginternational.com for more information.