Spring is not too far away, and with the change of seasons comes a change in the financial reporting requirements. XBRL (eXtensible Business Reporting Language) mandates go into effect April 13, when the SEC (US Securities and Exchange Commission) will require the 500 largest public companies to file XBRL-tagged versions of their financial results. By 2013, all public companies which use International Financial Reporting Standards (IFRS) will also be submitting their financial returns to the SEC using XBRL.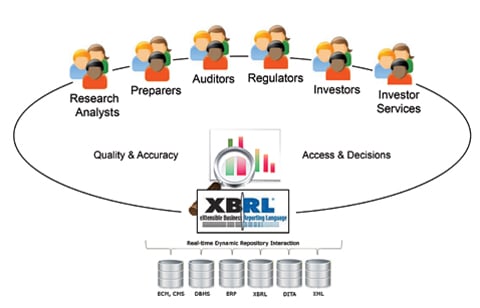 If you're a financial professional facing XBRL compliance, here are three things you need to know.
It's here—After years of hearing about XBRL being the next great thing, you can't wish it away anymore or hope a new administration might change prior decisions. If you don't have a transition plan in place and face an XBRL mandate between 2009 and 2011, you need to tackle this requirement now. But don't panic if you think that your company is behind on making XBRL plans. In the first year of filing, public companies will file using XBRL for their three primary financial statements and footnotes—all of which can be presented as a block of text. After the first year, data must be filed in a more detailed format, tagging the detailed quantitative disclosures within the footnotes and schedules.
Automated financial consolidation is critical—Trying to tag your financial data coming out of a manual consolidation process will be a nightmare. If you are not using a dedicated application to close your books, get one now. It will pay for itself in the time, money, and frustration you'll save by not having to manually tag data in individual files. If purchasing financial consolidation software is not in the budget, work it into the budget as soon as you can. While you may be able to get through the first year's filings, you will absolutely need an automated consolidation process before you attempt to tag financial data in the footnotes of your financial statements in subsequent years.
There's no reason to panic—Take a few deep breaths. As I mentioned above, there is a phased approach to the XBRL requirements. It makes sense, too, for you to approach your XBRL initiatives in phases. Remember that the SEC has been running a voluntary program with filers and learned many lessons along the way. You too will learn lessons along the way, and that's why it is important to take incremental steps that allow for some adjustments. Your first phase will likely involve tagging your financial data after the books have been closed. Subsequent phases can address tagging the data earlier on in the close process. Ultimately, you have to do what is most efficient for your company.
XBRL is imminent. So, if you haven't already taken steps, it's definitely time to start moving in that direction. Start by taking stock of your existing consolidation process, and then tackle your XBRL initiative in phases so you can learn and adjust as you go. This will give you the best results with the least amount of disruption.
Author: Christina McKeon Source: Infor's Blog