Ho Chi Minh City – 7th December 2012 TRG again sponsored the RMIT Vietnam Career Centre WPP Networking Event on December 6th at Purple Jade, InterContinental Asiana Saigon Hotel.
This is one of the many annual career activities of TRG that aims to help undergraduates and graduates learn about career opportunities.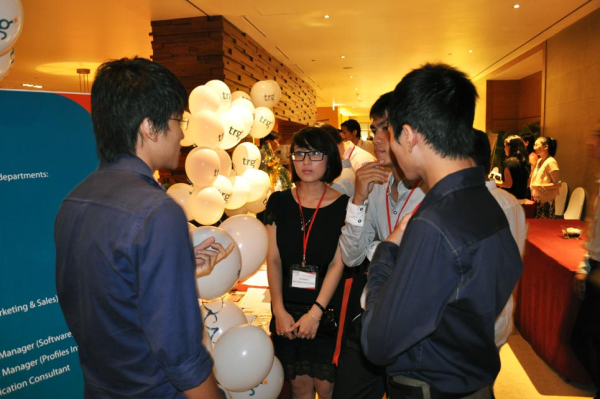 TRG staff talking to interested participants at the event
Taking part in this RMIT Vietnam Career Centre WPP Networking event, TRG continues its support of RMIT, it's students and graduates and aims to identify and attract more talent. TRG employees many of whom are RMIT alumni attended the event, manned the TRG booth and networked, discussed and introduced career opportunities with attendees to help them have an idea of 'who we are and what we do'.
Interns and new-graduates at TRG are trained and educated with skills that give them experience and a great start to their career in a professional and friendly working environment.
"In TRG we were an internship pioneer in Vietnam and we have been offering internships for the last 10 years. In recent years we also have our Graduate Development Program. Hundreds of undergraduates and graduates have benefitted from these programs and we're proud to see so many of them with great careers and in senior positions in a huge cross-section of industries across Vietnam and the region, including in TRG," said Rick Yvanovich, Founder and CEO of TRG.
For more photos, please visit our Facebook page.
###
About TRG
TRG is a market-leading global professional services firm focused on delivering technical excellence. TRG adds value in a challenging and dynamic market by delivering the right IT solutions to work quietly and brilliantly in the background, freeing our customers up to focus on their core. We do this by hiring people we believe in, and who believe in TRG, and empowering them with the skills and processes to outthink our competitors and deliver genuinely better solutions for our customers. We are a genuine consultant and partner who deeply understands the challenges of our customers business and is always ready to go the extra mile to deliver exactly the right solution for them. It's not about what we sell, it is all about how we think. Our solutions include: Financial Management, Enterprise Performance Management, Retail Management, Virtualisation, Hospitality and People Performance Management. To discover more about TRG, please visit www.trginternational.com