HCM City – March 8th 2013 – TRG's ladies had their day brightened by the male co-workers in the spirit of International Women's Day. As with all events, this is a chance for us to foster a corporate culture of passion and support.
From the moment the ladies walked into the door this morning, they would be greeted by a noticeboard pinned with warm wishes from all the men. The next surprise was a rose on each lady's desk, carefully wrapped in decorative paper. It did not end there. When we gathered for a brief in-house party, which was prepared by TRG's male interns, our ladies enjoyed live acoustic and vocal performances by some talented co-workers.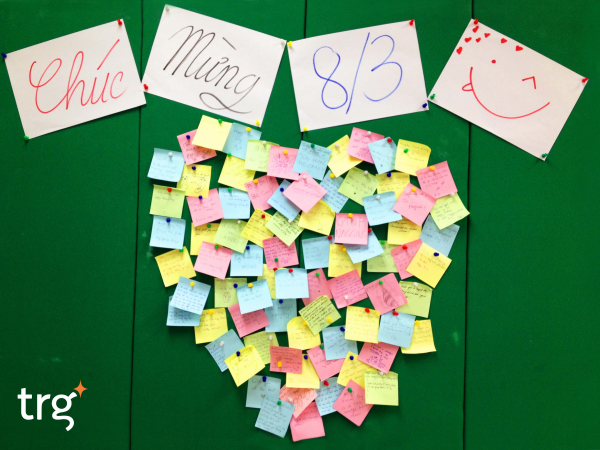 Thu Nguyen – one of TRG's senior Application Consultants – expresses her gratitude: "We were all delighted with the surprises the men had given us. They were really sweet and caring".
Being an IT company focused on delivering technical excellence means we have to be ready and available whenever our customers need us. It also means working overtime, overseas business trips, which requires stamina and resilience. Yet roughly half of our employees are female with nearly a quarter operating in technical functions. "On this special occasion, on behalf of all TRG's men, I'd like to thank all the ladies not only for their hard work but also for their devotion to making the world a beautiful place", says Thai Pham – Deputy General Director.
Some photos from today's celebration:
***
About TRG
TRG is a market-leading global professional services firm focused on delivering technical excellence. TRG adds value in a challenging and dynamic market by delivering the right IT solutions that work quietly and brilliantly in the background, freeing our customers up to focus on their core. We are a genuine consultant and partner who deeply understands the challenges of our customers' business and is always ready to deliver exactly the right solution for them. Our solutions include: Financial Management, Enterprise Performance Management, Retail Management, Virtualisation, Hospitality and People Performance Management.
http://trginternational.com