Citrix is changing the way IT administrators think about secure remote access and teleworking by introducing Citrix XenDesktop with Remote PC Access which allows employees the flexibility and mobility of remoting into business applications located on their existing desktop from any device.
Since its initial release last June, 100's of XenDesktop customers are successfully implementing Remote PC Access in production for teleworking and remote access business objectives.
Until Remote PC Access, for over a decade these customers typically had limited alternatives for remote access and teleworking:
Enable VPN tunnels, then secure the network path with access controls, which reduces the type of device that can remotely connect
Use poor performing protocols in either a VPN tunnel, unprotected connections NAT'd through firewalls, or published via XenApp
Purchase and issue expensive laptops or purpose built thin clients, which then build VPN tunnels with external appliances and having to control and optimize these connections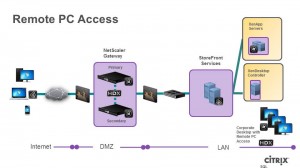 …and this was just the connection model type. Based on the flavor of connection model, you then had additional challenges to overcome:
Does the VPN client support the endpoint?
Is the network connection reliable with plenty of bandwidth?
Dealing with managing complexities between different consoles
Having to create user connection instructions that must be meticulously followed for a successful connection
Training the HelpDesk and IT to manage and segment this remote solution from an already deployed Citrix infrastructure
Both of these perspectives are born of a time when VPNs ruled the land, and user experience took back seat to IT admin control. In this new mobile world, Remote PC Access brings you even more control and security.
With Remote PC Access, we eliminate every single one of these challenges. With XenDesktop 7, let's also explore and apply the 3 key themes: Mobile. Simple. Secure.
Eradicate VPN tunnels for good with Citrix Receiver and HDX – encapsulating the session inside SSL via Netscaler Gateway -Mobile. -Secure.
Embrace clientless access and BYO mobility instantly – everyone has a tablet that can be used without further company investment -Mobile. -Simple.
Brilliant HDX end-end from user device (tablet, home pc/mac, etc) to the corporate image – Receiver is everywhere -Mobile. -Simple.
Eliminate protocol transitions with XenApp as "man in the middle" – almost every XenApp deployment has published the remote protocol application at the cost of performance and virtual channel controls - Simple.
Leave the bulky laptop in the office – executives love nothing better than to be as lightweight as possible and use their own device -Mobile.
Automated user to machine mappings – we take the work and effort out of creating the link in the login interface – you don't have to manually create the link, it's all automated -Simple.
User connection instructions are a thing of the past, and so are the sticky notes with machine names or IP Addresses -Simple.
By removing XenApp from the middle, you can apply SmartAccess policies end-end; restrict/enforce printers, client drive mappings, clipboard/USB mapping, etc. -Secure.
No need to retrofit apps and desktops for teleworking and remote access until the infrastructure is ready and built -Mobile.
In addition to these inherent benefits that exist already, we've included new functionality with Remote PC Access' 2nd generation in XenDesktop 7:
• Desktop Studio Site Creation Option
• Distinct Desktop Studio Catalog
• Flexible Catalogs mapping to Machines\OUs and Users\Groups
• Broad 3rd Party Credential Provider Support
• Windows 8 Desktops
• Enhancements for MS Lync
• GPU Remoting of DirectX Apps
• GPU Transcoding of Windows Media Redirection
• XenClient Enterprise Integration
• SmartAccess to Traditional Computing and XenClient Enterprise Images with Netscaler Gateway

Source : Citrix's Blog