Last Friday, 12th July, 2013, the weather couldn't have been nicer for all participants at the RMIT Vietnam Career Week event. The exhibition took place in the sport hall of RMIT Saigon South Campus. Even though it didn't officially start until 9.00 AM, the atmosphere had been heated up since 7.00. TRG together with other corporates all arrived a few hours early to set up their own booths. This year, there were about 30 companies from various sectors such as finance, accounting, supply chain, FMCG, communications, etc. It was this diversity that attracted a good turnout.
The number of students gradually increased by the minute. They were either fresh graduates or current students, most of whom were seniors getting ready for their internship programme. There were also not fewer freshmen and sophomores learning about the current labour market and career trend to be better-prepared.
Only about one hour into the event, the volume of visitors to TRG's booth had risen so dramatically that we had to divide the crew into smaller groups to effectively consult them. Throughout the event, the most common questions we received were:
TRG's booth at the RMIT Career Week event
Our thorough and enthusiastic responses must have cleared up the enquiries to such a satisfactory extent that many students later returned with more friends. Alongside consultation, TRG also held some fascinating side activities to help visitors gain deeper understanding of the company.
One of them was the memory challenge. Each time, 5 participants would be shown a series of TRG's clients. They had to memorise as many as possible then take turns to call out one name at a time. Whoever repeated or got stuck would have to leave the game while the last one standing would be the winner. Eventually, there were 7 students happily leaving the game with an elegant ceramic cup bearing TRG's logo each.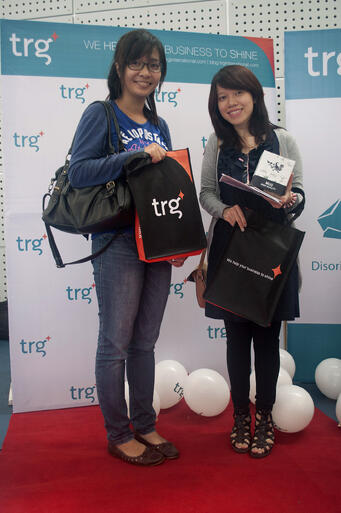 One of the challenge winners (right)
Another activity that was not any less exciting was the lucky draw. Just by filling out a little form, the students might have had a chance to win a compact gift basket consisting of useful items featuring TRG's logo and slogan. Hereby we are also glad to announce that the lucky winner was Phan Nang Cuong – a current student at RMIT. Within this week, the gift basket will find its way to his home. Congratulations!
We hope that at the end of the day, more than 800 students stopping at TRG's booth all came home having found a good start for their own career paths. They were not the only beneficiaries, however. The RMIT Career Week also provided TRG with an opportunity to look for people sharing similar belief and values who are always ready to go beyond their boundaries and shine with us. Additionally, we were able to update ourselves on applicants' current greatest concerns in order to enhance our selection process.
As human resources is the pivotal asset of any companies, the RMIT Career Week event last Friday meant a lot to TRG in particular and other companies in general. We therefore would like to send our special thanks to RMIT for hosting such a prestigious event. See you all next year!
***
About TRG
TRG is a market-leading global professional services firm focused on delivering technical excellence. TRG adds value in a challenging and dynamic market by delivering the right IT solutions that work quietly and brilliantly in the background, freeing our customers up to focus on their core. We do this by hiring people we believe in, and who believe in TRG, and empowering them with the skills and processes to outthink our competitors and deliver genuinely better solutions for our customers. We are a genuine consultant and partner who deeply understands the challenges of our customers' business and is always ready to go the extra mile to deliver exactly the right solution for them. It is not about what we sell, it is all about how we think. Our solutions include: Financial Management, Enterprise Performance Management, Retail Management, Virtualisation, Hospitality and People Performance Management. To discover more about TRG, please visit http://trginternational.com