Ho Chi Minh City, November 13th 2013 – TRG's annual team building trip took place at Phu Quoc, also known as Jade Island (Đảo Ngọc), on Saturday 9th and Sunday 10th November.
Located in the South West Coast of Vietnam, Phu Quoc is seen as a paradise island with peaceful tropical atmosphere, warm turquoise water, nice beaches and beautiful rainforests. Therefore, it is the perfect place for an exciting team building trip. This year, our theme is: "Take Responsibility to Grow", which is derived from the TRG acronym. The theme, according to Ms. Tran Thi Lan Anh - HR executive of TRG and a core member of TRG team building committee, is a "hard-to-express but very exciting theme to build up ideas from".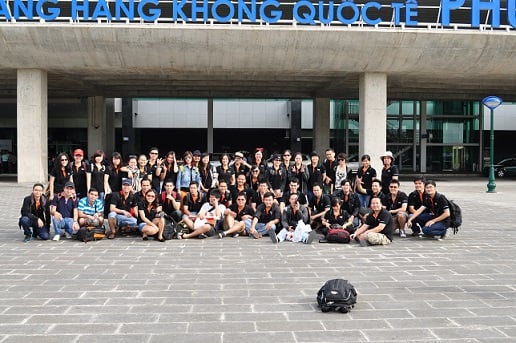 TRG Team arrived at Phu Quoc Airport
Following the tradition of enhancing the power of team work in each team building event, this year's theme once again rise up the awareness of the power of team work, engagement and collaboration.
All staffs were divided to 6 teams to compete in an amazing race which comprised of 3 main tasks:
Rubber raft or dinghy building and racing
Wooden sticks passing
Football bouncing in team format
Talking about the amazing race, Mr. Pham Hong Thai, Deputy Director of TRG shared: "The race was awesome, I cannot describe it merely by words! Each team had to row perfectly in sync to push the dinghy forward, and switch the oars to other teammates immediately to avoid slowing down the speed. The race was all about teamwork, and how important it is to work together to achieve goal and target. It was extremely fun and meaningful".
More than that, Mr. Nguyen Thai Binh, a new GDP this year, shared his thoughts after the morning games, "This is the first time I ever joined a team building trip. All the games were very exciting and I actually learned a lot about team work after this. You can do anything alone, but you will excel everything when working in team."
Like previous years, the employee Gala Dinner is the main and most expecting show. During the Gala Dinner, four Talent Teams, after months of creation, design, and practices, performed their special shows ranging from singing, belly dancing, flash mob, drama to video log. The talent show this year was truly amazing", Ms. Chau Nguyen Huong Thao, Talent Show's winning team leader said, "Every performance was very well-prepared, fantastic plots and very enjoyable music performances from all the teams. It's just 'wow!' ".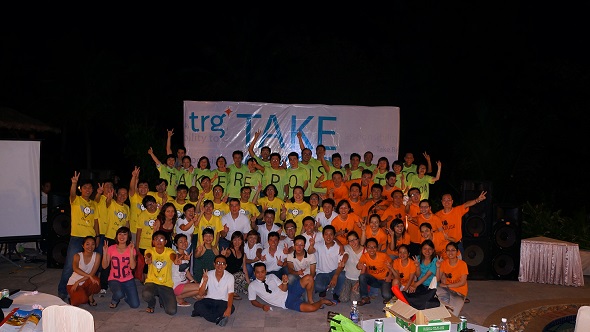 TRG's Talent Teams
"By organising this event, we hope to create an opportunity to bring all TRG members closer. We can grow strongly and work more effectively and efficiently together to help our customers shine," said Mr. Rick Yvanovich, Founder and CEO of TRG.
Click here to see more photos at this event.
About TRG
TRG is a market-leading global professional services firm focused on delivering technical excellence. TRG adds value in a challenging and dynamic market by delivering the right IT solutions to work quietly and brilliantly in the background, freeing our customers up to focus on their core. We do this by hiring people we believe in, and who believe in TRG, and empowering them with the skills and processes to outthink our competitors and deliver genuinely better solutions for our customers. We are a genuine consultant and partner who deeply understands the challenges of our customers business and is always ready to go the extra mile to deliver exactly the right solution for them. It's not about what we sell, it's all about how we think. Our solutions include: ERP, Financial Management, Enterprise Performance Management, Retail Management, Virtualisation, Hospitality and People Performance Management. To discover more about TRG, please visit www.trginternational.com