(HCMC), November 20th 2013 – Phu Hung Life Insurance Joint Stock Company (Phu Hung Life) and TRG International (TRG) signed a contract to appoint TRG as Phu Hung Life's financial solution provider with the presence of both Management Team, consulting and supporting teams of the two companies.
Under the agreement, TRG will supply and implement Infor SunSystems version 6 VAS edition - a complete financial management solution – which complies with both international (IFRS) and Vietnamese (VAS) reporting standards. Simultaneously the solution offers other features specialising in the requirements of financial management for life insurance in Vietnam and of operational reporting and analysis for Phu Hung Life. TRG will design and deploy the software system as well as provide training sessions, support and maintenance to Phu Hung Life.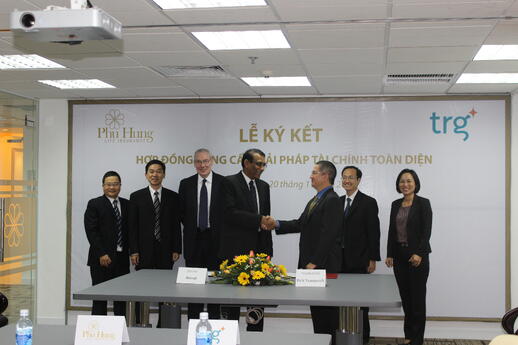 Mr.Bimal Balasingham, Director of Phu Hung Life expressed his belief in TRG: "Being the first joint-stock company in the life insurance sector in Vietnam, Phu Hung Life pays much attention in investing into genuine financial management solutions that best manage and serve our customers. We have chosen TRG to be our partner in consulting and implementing our financial management solutions because we rely on TRG's proven expertise, long and successful track record and dedication to help us get the most out of our investment, control and grow in the Vietnamese market."
At the ceremony, Mr. Rick Yvanovich – Founder and CEO of TRG - said: "We are delighted to be selected by Phu Hung Life which confirms again TRG as the partner of choice for companies in the life insurance sector in Vietnam. We bring a long track record of experience of this industry and look forward to helping Phu Hung Life become even more successful by sharing industry best practices and a stress-free solution that works for Phu Hung Life enabling Phu Hung Life to focus on their core business, providing financial advice, products, and services to protect the financial futures of families and businesses in Vietnam."
About TRG
TRG is a market-leading global professional services firm focused on delivering technical excellence. TRG adds value in a challenging and dynamic market by delivering the right IT solutions that work quietly and brilliantly in the background, freeing our customers up to focus on their core. We do this by hiring people we believe in, and who believe in TRG, and empowering them with the skills and processes to outthink our competitors and deliver genuinely better solutions for our customers. We are a genuine consultant and partner who deeply understands the challenges of our customers' business and is always ready to go the extra mile to deliver exactly the right solution for them. It is not about what we sell, it is all about how we think. Our solutions include: Financial Management, ERP, Enterprise Performance Management, Hospitality, Retail Management, Virtualisation, and People Performance Management. To discover more about TRG, please visit http://trginternational.com
About Phu Hung Life
Phu Hung Life Insurance Joint Stock Company (Phu Hung Life) officially entered the Vietnam life insurance market in 2013 and is the first joint stock life insurer in Vietnam with an initial capitalization of VND633 billion. Phu Hung Life's shareholders who include Phu My Hung Corporation, Phu Hung Assurance and CX Technology (CXT) with the direction of the Ting family have a distinguished track record of business success and a strong legacy of social contribution in Vietnam for 25 years.
Phu Hung Life's purpose is to promote health, wealth and happiness in Vietnam by protecting the financial futures of families and businesses. The company's aspiration is to be the most preferred life insurer in Vietnam, recommended by families and friends, trusted for financial advice, product, service and support. Operating with four corporate values of Innovation, Efficiency, Substance and Simplicity, Phu Hung Life will be a great company to buy from, work for and invest in.
For more information, please kindly contact:
Truong Thanh Que Minh (Ms)
Marketing Department, TRG International Company
5th Floor, Central Plaza Building, Le Duan Boulevard, District 1, HCMC
Phone: (08) 3823 6981 (ext: 301) / 0902 989 123
Email: minh.truong@trginternational.com
***