Ho Chi Minh City – Last Wednesday, 26th November 2013, TRG successfully ended its first ever Business Intelligence event "Business Insights: All you didn't know" to help businesses improve their decision making and ultimately, their bottom line performance by gaining insights into data and transform into information – the most valuable asset of every company.
The event welcomed about 40 special guests who are CEOs, CFOs and Top Managers from over 20 companies in Ho Chi Minh City and surrounding areas to share and discuss interesting concept of business intelligence in organisations.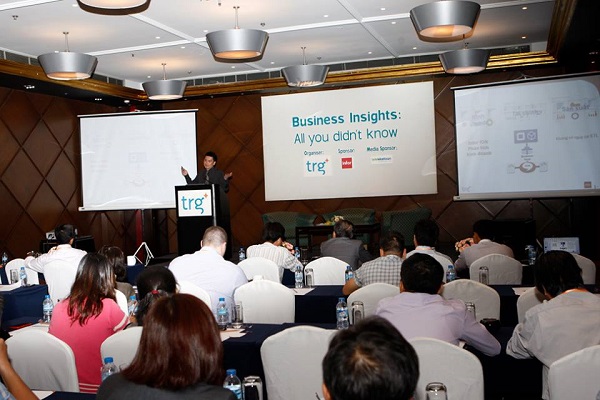 Mr. Ken Loh talked about Business Insights at the event
At the seminar, the overview of Business Insights, or Business Intelligence (BI) was introduced together with various topics, including:
The importance of having the right information at the right time and how it can help businesses gain competitive advantage in decision making process.
Current Business Intelligence challenges and how you can turn data into business value.
Best practices in implementing Business Intelligence for businesses in various areas including: sales, finance and production.
Mr. Pham Hong Thai - Deputy General Director, TRG shared after the event: "Common challenges that most businesses are facing during decision making processes are: big data, missing valuable information, misleading or equivocal information. Research finds that less than a quarter of all companies are believed to have reliable and consistent sources of information. Hence, in terms of decision making, firms with certain applications, like BI will be one step ahead of their rivals in gaining competitive advantage in the market."
Mr. Ken Loh - Director Performance Management from Infor SEA also expressed: "Information is a critical success factor. It can be considered as the root of every decisions that lead to success of one organisation, and bad information system can easily drive your business into the wrong way. With this seminar, we hope to provide you different angles about information system roles in business, and how this help your business to shine."
About TRG:
TRG is a market leading global professional services firm focusing on delivering technical excellence. TRG adds value in a challenging and dynamic market by delivering the right IT solutions that work quietly and brilliantly in the background, freeing our customers up to focus on their core business. We do this by hiring people we believe in, and who believe in TRG, and empowering them with the skills and processes to outthink our competitors and deliver genuinely better solutions for our customers. Our solutions include: Enterprise Resources Planning (ERP), Financial Management, Enterprise Performance Management, Retail Management, Virtualisation, Hospitality, People Performance Management.
To discover more about TRG, please visit http://trginternational.com