In 2012, the World Health Organisation (WHO) reported that over a period of 10 years, Vietnam's total blood donation rose from 268,394 to 776,420 units of blood. Impressive as it seems, the amount collected annually only meets about 45% of national demand. In fact, there are only 62 countries in the world that are self-sufficient in blood supplies. With the Lunar New Year (Tet) coming, can Vietnam cope?
This holiday period is when there are critical blood shortages because of increased traffic accidents and other emergency cases. Moreover, Vietnam's expansion of health care coverage in recent years has further increased these demands. In efforts to close the gap, voluntary blood donation has become the most important supply, accounting for 90% of the total blood units collected. TRG International is also lending a helping hand by organising a blood donation event in collaboration with HCM City's Humanitarian Blood Donation Centre on Feb 1st 2013.
We believe that it is the best gift to give people - the gift of life. With 3 annual blood donation drives, we strongly encourage voluntary employees to come back and become regular donors. This way, we can help ensure the reliability and safety of blood supply.
Our pictures from previous blood donation events: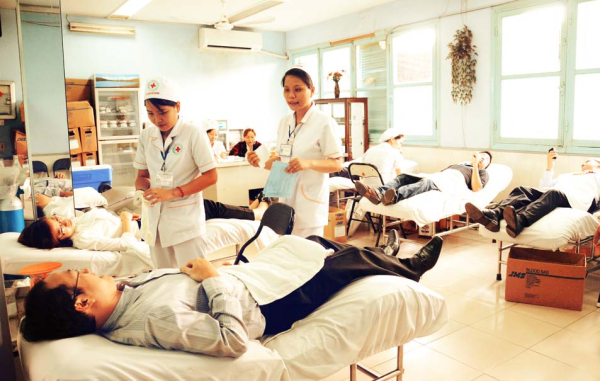 TRG's blood donors at Feb 2012 event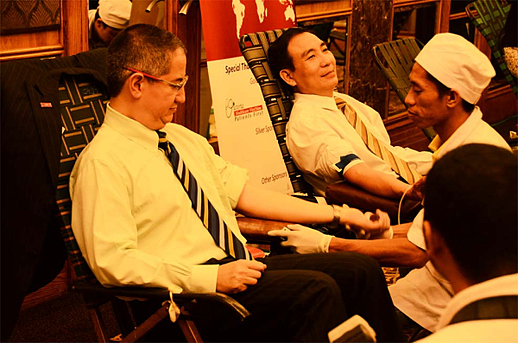 TRG's CEO at Amcham's World Blood Donor Day 2012
###
About TRG
TRG is a market-leading global professional services firm focused on delivering technical excellence. TRG adds value in a challenging and dynamic market by delivering the right IT solutions to work quietly and brilliantly in the background, freeing our customers up to focus on their core. We do this by hiring people we believe in, and who believe in TRG, and empowering them with the skills and processes to outthink our competitors and deliver genuinely better solutions for our customers. We are a genuine consultant and partner who deeply understands the challenges of our customers business and is always ready to go the extra mile to deliver exactly the right solution for them. It's not about what we sell, it is all about how we think. Our solutions include: Financial Management, Enterprise Performance Management, Retail Management, Virtualisation, Hospitality and People Performance Management. To discover more about TRG, please visit www.trginternational.com