On 10th July 2015, RMIT Vietnam Career Expo was hosted as an annual event to connect students who were looking for opportunities and businesses which were looking for right talents. This event gathered more than 30 famous and professional companies, including TRG International, Bosch, Zalora, AIG and so on and over 1,000 students came to this career expo.
This is a great chance for companies to introduce about themselves via many activities. TRG International also reached out more than 200 students to show them their career path in TRG International or Profiles-sea family.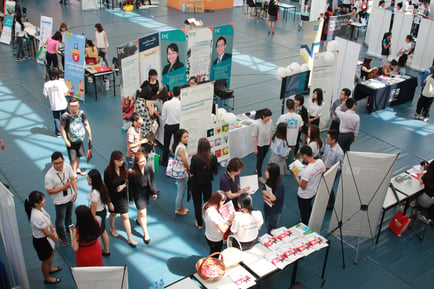 TRG International Booth at RMIT Career Expo 2015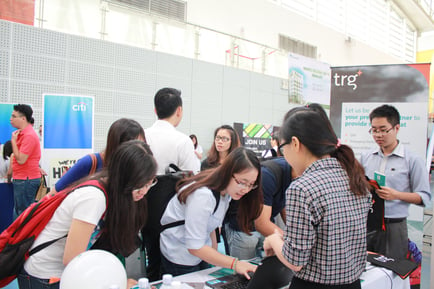 Students were giving information for future employment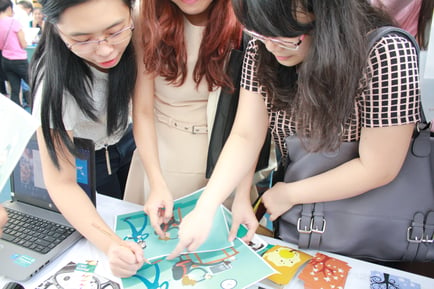 Students were playing "Spotting the differences" game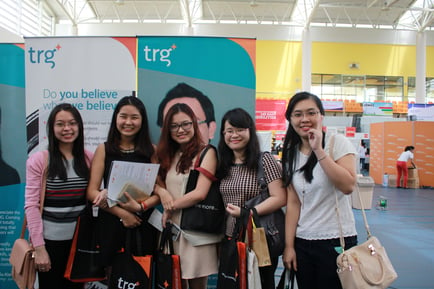 Students joined TRG International Booth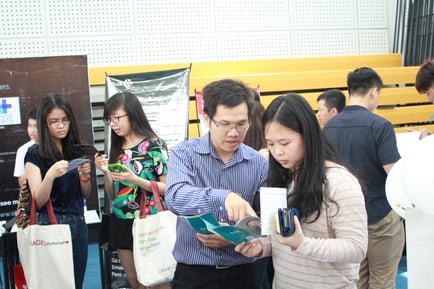 TRG employee was explaining about GDP Program and TRG working environment
Students coming to TRG International's booth can listen to real work stories from our employees. This is not only an opportunity to talk about what TRG do, but also how we are, such as our working environment, colleagues' friendliness, monthly and annual benefits and etc. They also actively asked to know deeply about how the company values its employees and creates opportunities for their future development.
RMIT Vietnam Career Expo ended successfully and left a great impression for both businesses and students who came to the event.

About TRG International
TRG International is a market-leading global professional services firm focused on delivering technical excellence. The company has been successful for more than 20 years in providing SunSystems for finance and accounting systems. TRG International adds value in a challenging and dynamic market by delivering the right IT solutions that work quietly and brilliantly in the background, freeing our customers up to focus on their core. We are a genuine consultant and partner who deeply understands the challenges of our customers' business and is always ready to go the extra mile to deliver exactly the right solution for them. It is not about what we sell, it is all about how we think.
Our solutions include: Financial Management (Infor SunSystems), ERP (Infor LN and Infor Cloudsuite Industrial SyteLine), Dynamic Enterprise Performance Management (Infor CPM), Hospitality (Infor SunSystems for Hotels), Retail Management (Retail Pro 9), Virtualisation (CItrIx) , Professional Service Management and People Performance Management (system@work). To discover more about TRG, please visit http://trginternational.com
About RMIT Vietnam Career Week
RMIT Vietnam Career Week is a annual event for students to have an overview about the job market. There are many activities which provide tips and techniques for students to prepare before looking for jobs. Students will interact with professionals from various industries and have chances to find internships and full-time jobs at Career Expo.