Professional ethics are a sensitive definition in any professions, especially during the recession. According to a survey by ACFE (Association of Certified Fraud Examiners), the recession has led to an increase in corporate fraud. In Vietnam, there have been neither official reports nor statistics about the state of professional ethics in companies. However, when looking at recent Transparency International's corruption perceptions index, Vietnam is listed in the red zone with alarming professional ethics.
Nonetheless, in order to succeed and develop in the competitive market, professional ethics are "the most valuable intangible asset of the employee", says Ms. Trinh Hong Nguyet, Vice President and General Secretary of Vietnam Association of Certified Public Accountants. Furthermore, an 11-year study of Prof. John Kotter and Prof. James Heskett from Harvard Business School, co-authors of the book "Corporate Culture and Performance", also shows that companies with high standards of ethics have increased their income by 682% (compared with competitors whose average ethics standards are only 36%), their stock value in the stock market by 901% and their net profits by 756%. This means professional ethics not only benefit the individuals but also their employers.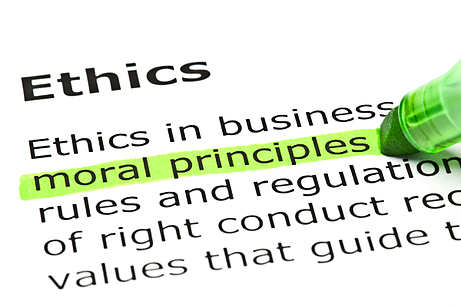 Each profession has its own code of ethics. Every company again has its own code of ethics in compliance with the corporate culture. The advancement of society requires each employee to comply with the basic code of ethics to ensure that the profession, products and the company receive full respect from the society. The code of ethics for accountants and auditors are no exceptions; it is unique for the industry. Decision 87/2005/QD-BTC on issuing and announcing Vietnam's code of ethics for accountants and auditors has created standard professional ethics such as:
Independence
Objectivity and integrity
Confidentiality
Professional competence and due care
Professional conduct
Compliance with professional standards
Another code of ethics that encourages you to uphold your ethical stance is the CIMA Code of Ethics. CIMA Code of Ethics includes the following fundamental principles:
Integrity
Objectivity
Professional competence and due care
Confidentiality
Professional behaviour
The below video simplifies the CIMA Code of Ethics for your reference:
The above standards may sound theoretical, thus, in order to help readers fully comprehend these codes of ethics, as well as apply them to real-life moral dilemmas, we will provide you with case studies in our upcoming entries on the topic. Check back on this blog to avoid missing out.