On behalf of TRG International, Mr. Pham Hong Thai gave a brief introduction presentation about TRG International and BIS career path to new students at RMIT BIS Club Orientation Day on 22nd July 2015.
BIS Club organised the Orientation Day in order to help new students acknowledge about RMIT program and their future career path. Since BIS program is an integrated program between technical knowledge and communication, products, personnel and clients information of a business. And it requires particular skills and knowledge and the career field for this is quite limited, thus students are not sure that what they can do after graduating and which companies are on top of this field in Vietnam.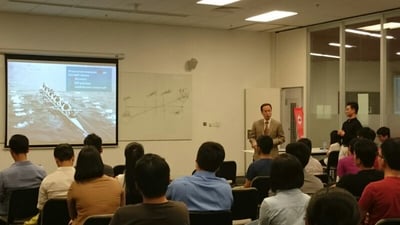 Mr.Thai was sharing career path at TRG International to RMIT BIS students

"Except becoming a consultant, students can do web development, sales and other career paths" Mr. Pham Hong Thai said to students. "At TRG International, you will find that you are open to a lot of opportunities from your expertise learnt at RMIT Vietnam. We always welcome hard-working and eager-to-learn employees."
Current ERP employees also came and shared their point of view towards career paths for BIS students and at TRG International.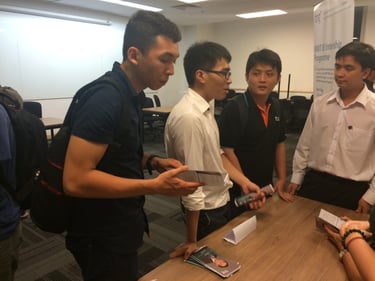 ERP consultants was explaining about BIS program and career path at TRG International
"You don't really need to understand fully about coding and become an expert in that field in order to work as a consultant. All coding job is done by Infor, so technically we just need to redesign to make it adapt and adequate to each business." Mr. Tam Nguyen,ERP consultant of TRG International, shared with current BIS students
"They are new students so they don't really understand about this field and they are in confusing condition. This is a great chance to talk and help them define clearly about their future career path." Ms. Pham Thi Minh Ngoc, HR officer of TRG International.
The Orientation Day is organized at the beginning of each semester to help new students understand about BIS better. TRG International also become a long-term strategic partner for this Club until January 2017. TRG International will support BIS Club in organizing workshops and seminars about career path and soft skills.

About TRG International
TRG International is a market-leading global professional services firm focused on delivering technical excellence. The company has been successful for more than 20 years in providing SunSystems for finance and accounting systems. TRG International adds value in a challenging and dynamic market by delivering the right IT solutions that work quietly and brilliantly in the background, freeing our customers up to focus on their core. We are a genuine consultant and partner who deeply understands the challenges of our customers' business and is always ready to go the extra mile to deliver exactly the right solution for them. It is not about what we sell, it is all about how we think.
Our solutions include: Financial Management (Infor SunSystems), ERP (Infor LN), Enterprise Performance Management (Infor CPM), Hospitality (Infor SunSystems for Hotels), Retail Management (Retail Pro), Virtualisation (Citrix) , and People Performance Management. To discover more about TRG, please visit http://trginternational.com
About RMIT BIS Club
BIS Club was established to support students who are studying in RMIT Vietnam Business Information Systems program. With the support of BIS department, lecturers and external companies; the club often organizes Business Analysis guest speakers, workshops and industry tours.