HCM City – November 26th, 2012 – TRG took part in the 16th Annual Terry Fox Run to bring hope to cancer patients on Sunday, 24th November at Crescent Area, District 7.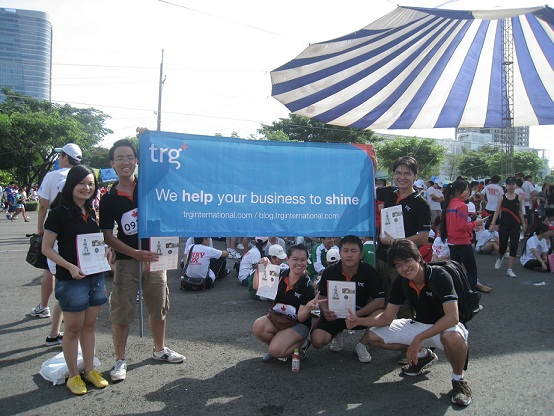 TRG staff after completing the run
More than 14,000 participants from residents, businesses to students completed the 5-km run starting at 8AM. As a keen supporter of this global cause for many years, TRG aims to raise awareness and inspire people to join hands in this Marathon of Hope.
An Bui – HR intern at TRG – beamed with enthusiasm: "Having heard about the story of Terry Fox for a while, this is my first time as a runner in this event, thanks to the support from my company. It was fun and worthwhile. So why not?"
This annual charity event, which first happened in Vietnam in 1997, is a coordinated effort between the Canadian Consulate General, the Canadian International School and the HCMC Union of friendship organisations. Last year, the Terry Fox Run raised a record amount of VND1.4 billion for cancer research and charities.

###
About TRG
TRG is a market-leading global professional services firm focused on delivering technical excellence. TRG adds value in a challenging and dynamic market by delivering the right IT solutions to work quietly and brilliantly in the background, freeing our customers up to focus on their core. We do this by hiring people we believe in, and who believe in TRG, and empowering them with the skills and processes to outthink our competitors and deliver genuinely better solutions for our customers. We are a genuine consultant and partner who deeply understands the challenges of our customers business and is always ready to go the extra mile to deliver exactly the right solution for them. It's not about what we sell, it is all about how we think. Our solutions include: Financial Management, Enterprise Performance Management, Retail Management, Virtualisation, Hospitality and People Performance Management. To discover more about TRG, please visit www.trginternational.com