Ho Chi Minh City, 30th September 2013 –TRG, together with more than 8500 participants from hundreds of companies, joined the 13th Annual Fun Run for Charity organised by BBGV in Crescent Mall, District 7 on 29th September,2013. Since its launch in 2000, the event has raised more than 6 billion VND to benefit charities in Vietnam.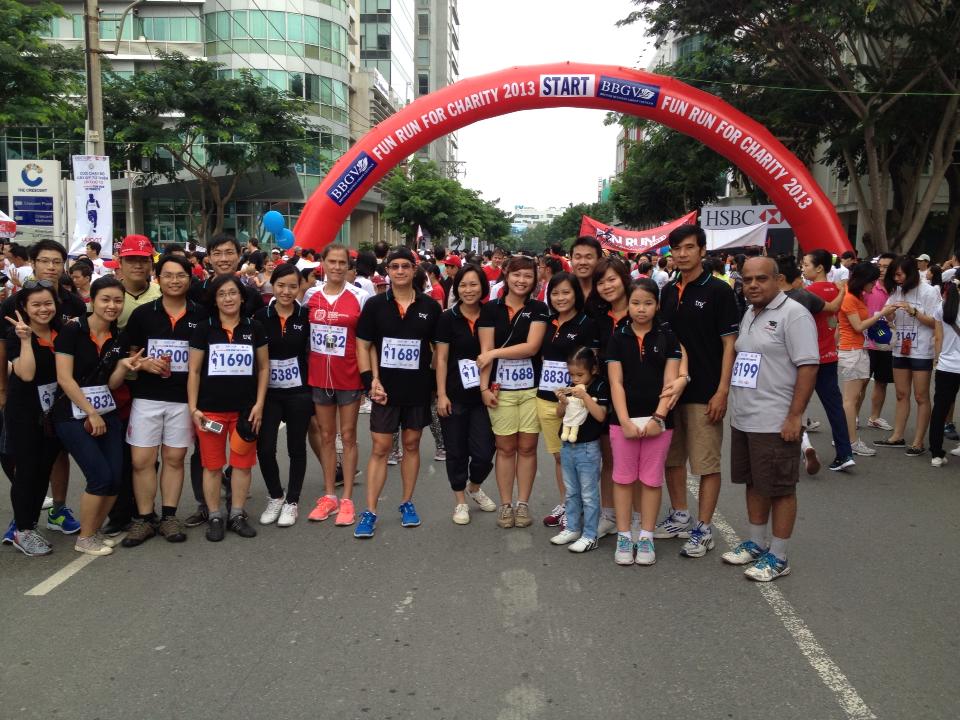 TRG at the event
This event is a fun morning for everyone and is also a great team building event and yet the proceeds are going to charities within Vietnam. Taking part in this event, TRG hopes to share hopes and love to needy people, especially children and elders, in the country.
Cuong Tran, BIS Intern at TRG, said: "This is the first time I joined such a fun and memorable event. I had lot of fun and this event not only helps me connect more with my colleagues but also contribute to the community. It was great and I'll definitely join again next year."
"By joining this event, we hope to not only bring people closer to each other but also to give something meaningful to the community within our ability and be happy about that", said Ms. Lan Anh, HR Executive of TRG.
About BBGV
The British Business Group Vietnam (BBGV) has grown from its humble beginning as a few 'Brits' meeting for lunch in 1995, to become one of the most dynamic foreign business groups in Vietnam. The Group was formally established with the Vietnamese authorities in 1998 and has employed full time staff since 1998. It has subsequently had its license renewed 3 times. The BBGV now boasts more than 450 members and prides itself on its friendliness and approachability. In Ho Chi Minh City, the Group is closely associated with the annual Fun Run that the Group has organised since 2000, as part of its commitment to building linkages with the local community. Visit http://www.bbgv.org/events.html for more information.
About TRG
TRG is a market-leading global professional services firm focused on delivering technical excellence. TRG adds value in a challenging and dynamic market by delivering the right IT solutions that work quietly and brilliantly in the background, freeing our customers up to focus on their core. We are a genuine consultant and partner who deeply understand the challenges of our customers' business and are always ready to deliver exactly the right solution for them. To find out more about us, please visit: http://www.trginternational.com/.