In the TRG Talk- Talent Management this month, HR practitioners will have the opportunity to network and discuss in-depth with the speaker, Mr. Andree Mangels, General Director of Adecco Vietnam and Malaysia, on how companies can develop their human resources as well as how to prevent them from draining.
The event is co-organised by TRG International and Adecco, which will take place at PJ's Coffee Viet Nam on the 24th of July.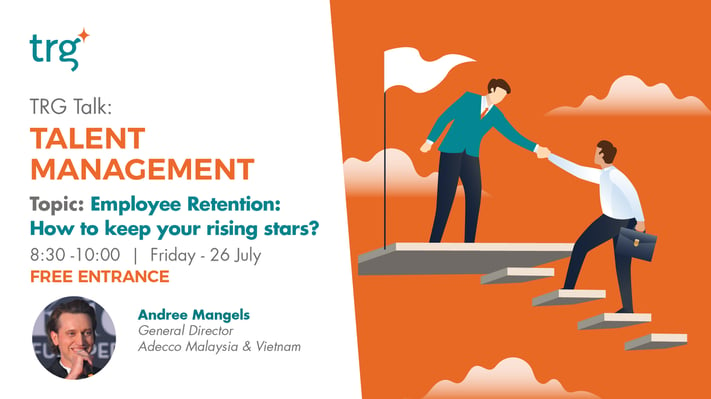 Since the demand for skilled talents in Vietnam is growing exponentially, training top talents who fit well with your company is not an easy task. According to Anphabe's recent research, the rate of job hopping in Vietnam in 2018 was 20%; over 50% of talents are always in "job-jump" posture. This creates a big challenge for HR in every business.
This upcoming "TRG Talk- Employee retention: How to Keep Your Rising Stars?" event offers a comprehensive approach to solve the talent draining problem from the leading expert in Talent Management, Mr. Andree Mangles, General Director of Adecco Vietnam & Malaysia.
As a sharp and result-oriented leader, Andree has successfully led various recruitment firms while coaching and developing key talents under his management. He began his career in recruitment in 2006 and had obtained multiple notable achievements. Since February 2019, Andree is the General Director of Adecco Malaysia & Vietnam.
Seating at the event is limited. For registration and additional information about the event and the speaker, please visit: https://blog.trginternational.com/trg-talk-talent-management-jul-2019-en
About TRG International
TRG International is an IT, Talent and F&B company. We help people and businesses to shine. We help people be the best they can possibly be by selecting the right people for the right job and developing them to their full potential. We help companies by providing an IT solution that works quietly and brilliantly in the background, freeing them up to focus on their core and not having to worry about their IT systems. We do this for more than 1,000 clients in 80 countries.