Ho Chi Minh City - TRG employees and their family members had an exciting one-day tree planting trip along with outdoor activities in Cai Lay, Tien Giang on Saturday, 24th May. This is the 6th time the company undertakes this green activity to give out the green gift for our surrounding environment.
40 people have registered to join, including spouses and children of TRG International staff has gathered early in the morning to head to Cai Lay. The atmosphere was heated up when the group reached Truc Lam Chanh Giac Monastery, since this is the first time TRG to hold tree planting event in a pagoda. All are divided into 4 teams to plant 60 trees, each of over 2 metre high.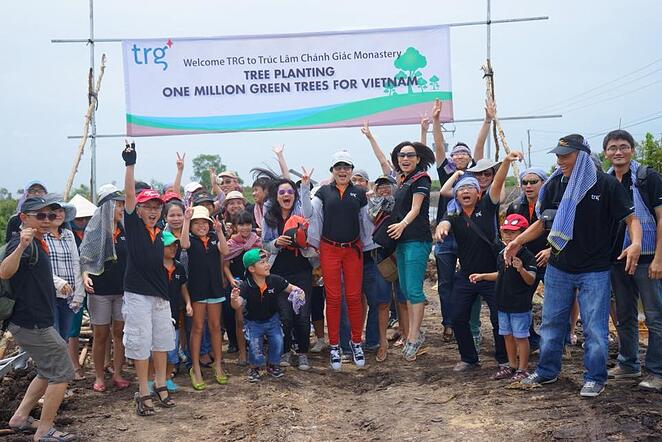 TRG Army at the tree planting site
Tree planting is the most popular Green event and one of the most common activities people associate with helping the Earth. Millions of trees are planted each year around the world. Planting is an act of putting down roots and contributing to the future. The simple act of planting a tree, helps the environment in so many ways.
Tree planting is one of TRG' annual CSR activities and this was our 6th trip. This event was in support of the World Forestry Day (March 21st) and Earth Day (April 22nd)
Mr. Pham Hong Thai, General Deputy at TRG said: "The trip exceeded our expectations indeed. It was a nice combination of different elements: nature, culture, fun, exercise and social responsibility and all of us had fun in every minute. I can't wait to the next tree planting trip!"
You can see more image of the Tree planting event here
About TRG
TRG is a market-leading global professional services firm focused on delivering technical excellence. TRG adds value in a challenging and dynamic market by delivering the right IT solutions that work quietly and brilliantly in the background, freeing our customers up to focus on their core. We do this by hiring people we believe in, and who believe in TRG, and empowering them with the skills and processes to outthink our competitors and deliver genuinely better solutions for our customers. We are a genuine consultant and partner who deeply understands the challenges of our customers' business and is always ready to go the extra mile to deliver exactly the right solution for them. It is not about what we sell, it is all about how we think. Our solutions include: ERP, Financial Management, Enterprise Performance Management, Retail Management, Virtualisation, Hospitality and People Performance Management. To discover more about TRG, please visit http://trginternational.com