Ho Chi Minh City, 22nd Sep 2013 – In order to celebrate The World Rhino Day 22/9, TRG has been recently taking part in the WWF & Traffic's campaign against rhino horns trade and consumption in Vietnam. We are honoured to be one of the 20 companies in Vietnam to support this campaign and are the only IT Company received the "Certification of Appreciation" from WWF &Traffic for our strong and enthusiastic commitment to this campaign.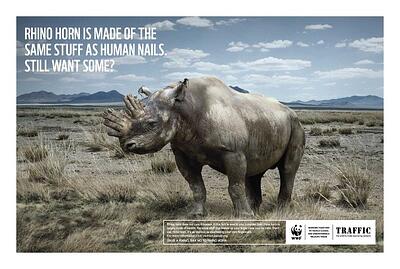 In Asia, out of the three Asian rhino species i.e. Greater-one horned, Javan and Sumatran; the latter two are critically endangered. It is reported that only a small population of Javan rhinos still remains in Java, Indonesia. But, this number continues to decrease shockingly to fewer than 50 individuals in 2013 (Save the Rhino International, 2013). Even worse, in Vietnam, the Javan rhino is extinct as the last one is found dead having a single shot in its body in 2010. (WWF Website, 2011)
The demand for rhino horns is the greatest threat to the survival of this species. In Vietnam, the demand for rhino horns continues to rise as people believe that it is an important ingredient in Traditional Medicine as well as a status symbol of wealth and power. TRG strongly agree with WFF & Traffic that "the senseless killing of rhinos is not only an act of cruelty and immorality, but also leads sick people to invest hope through a fake cure in lieu of effective therapies" (WWF Website, 2013). Henceforth, we are doing the best that we can do to support this campaign.
To take action, TRG has help to post posters and banners on our Notification board, website homepage as well as encourages employees to set rhino protection banner in their email signature and share campaign information to friends, colleagues, and partners as an action to diffuse the message.
Mr. Rick Yvanovich, Founder and CEO of TRG, said: "By supporting this campaign, we hope to help stop the poaching crisis and make people aware of the wrong beliefs in the mystique of rhino horns. This is also a part of our social corporate responsibility campaigns in which we look forward to continuing support for a better living condition and preserve humanity".
"WWF really appreciate TRG's strong and enthusiastic supports to our campaign by disseminating these meaningful messages to the community which potentially improves people's awareness on rhino horns illegal trading and consumption around the world, especially in Vietnam", said Ms. Ha Pham, WWF's Corporate Relations Officer.
About WWF and TRAFFIC
The World Wildlife Fund is a non-profit organisation committed to stop the degradation of the Earth's natural environment and build a future in which humans live in harmony with nature. For more information, please visit worldwildlife.org.
TRAFFIC is the wildlife trade monitoring network governed by the TRAFFIC Committee, aims to contribute to the wildlife trade-related priorities of its partners, which are WWF and IUCN. Visit traffic.org/overview for more information.
About TRG:
TRG is a market-leading global professional services firm focused on delivering technical excellence. TRG adds value in a challenging and dynamic market by delivering the right IT solutions that work quietly and brilliantly in the background, freeing our customers up to focus on their core. We are a genuine consultant and partner who deeply understand the challenges of our customers' business and is always ready to deliver exactly the right solution for them. To find out more about us, please visit: http://www.trginternational.com/.