Today's organisations encompass a diverse range of users. No one-size-fits-all approach to virtualisation technology can meet all the different requirements of these users. While other solution vendors continue to support only one or two types of virtualisation technology, e.g. virtual desktop and application, Citrix supports all desktop virtualisation architecture and every type of users through a single, integrated solution: Citrix®XenDesktopTM with its unique Citrix FlexCastTM technology.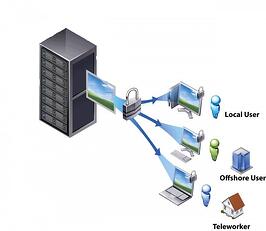 FlexCast enables a variety of desktop and application delivery approaches:
Hosted shared desktops: Hosted Shared desktops provide a locked down, streamlined and standardised environment with a core set of applications, ideally suited for task workers where personalisation is not needed – or allowed. Supporting up to 500 users on a single server, this model offers a significant cost savings over any other virtual desktop technology.
Hosted VDI desktops: Hosted VDI desktops offer a personalised Windows® desktop experience, typically needed by office workers, which can be securely delivered over any network to any device. This option combines the benefits of central management with full user personalisation, and can generally support up to 150 desktops per server.
Streamed VHD desktop: Streamed VHDs leverage the local processing power of rich clients, while providing centralised single-image management of the desktop. This approach offers an easy, low-cost way for customers to get started with desktop virtualisation by leveraging existing PC resources and keeping datacentre overhead to a minimum. It can also be ideal for government and university labs that use diskless PCs for maximum data security.
Local VM desktop: Local VM desktops extend the benefits of centralised, single-instance management to mobile workers that need to use their laptops offline. When they are able to connect to a suitable network, changes to the OS, apps and user data are automatically synchronised with the datacentre.
On-demand Applications: Allows any Windows® application to be centralised and managed in the datacentre, hosted either on multi-user terminal servers or virtual machines, and instantly delivered as a service to physical and virtual desktops. Optimised for each user device, network and location, applications are delivered via a high speed protocol for use while connected or streamed via Citrix application virtualisation or Microsoft App-V directly to the endpoint for use when offline.
With FlexCast, your IT group can deliver virtual desktops and applications tailored to meet the requirements of each individual user. Read the full white paper
"Citrix XenDesktop: Desktop Virtualisation for All"
to find out more.
Like what you've read? Click here to subscribe to this blog!