IT organizations successfully deploy virtualization every day to maximize utilization of existing computing resources and more quickly provision systems, services, applications and desktops. Virtualization helps reduce datacenter capital and operating expenses while increasing the availability of critical business systems. The result is an IT organization with greater agility and a new ability to address even the most complex business imperatives.
This is the first installment of a 4-part "Better Virtualisation with Citrix" series. This series illustrate how Citrix XenServer, Citrix XenApp and Citrix XenDesktop virtualization technologies are complementary and how they can—and should—be combined to increase the financial benefits and management impact for IT and the business. More importantly, this series will provide some pragmatic methods to combine Citrix server, application and desktop virtualization technology to deliver a more dynamic, agile and cost-effective IT infrastructure.
Brief overview of the virtualization stack
Server virtualization enables one physical server to support multiple workloads simultaneously by decoupling workloads—consisting of an operating system, application set and configuration—from the physical computing platform and running them in separate virtual machines (VMs). Benefits include isolation (running multiple workloads safely and securely on a single computing platform) and workload portability (the ability to move workloads across different physical computing platforms). Advanced server virtualization platforms can even migrate actively running workloads across physical servers, allowing the workload to float across a pool of physical computing resources, which enables IT departments to maximize available computing resources, reduce costs and deliver applications to users reliably and effectively.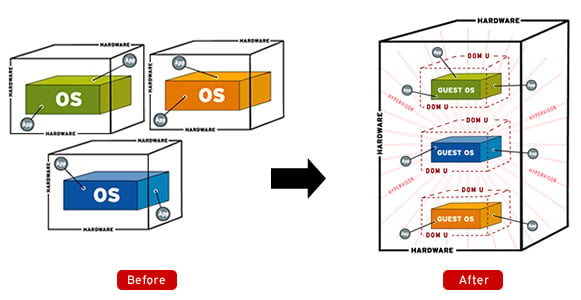 XenServer is a free, enterprise-ready, cloud-proven server virtualization platform that contains all the capabilities required to create and manage a virtual infrastructure. XenServer brings together valuable features to deliver immediate benefits to organizations of any size. These features include:
Citrix® XenMotion®, which allows administrators to move a running VM from one XenServer to another
Citrix® XenCenter® management console
XenConvert, a free physical and VM conversion utility
Disk snapshots
Active directory integration
A high-performance, reliable and scalable hypervisor
On top of this base of rich yet free technology, premium versions of XenServer provide a host of features that enable customers to integrate virtual environments with existing storage services and automate key IT management processes. The XenServer premium editions increase IT flexibility and automation, which in turn lowers costs and helps to transform complex IT environments into simplified virtual computing centers. XenServer improves server utilization, lowers costs and simplifies server administration and deployment of applications across physical and virtual environments.
The foundation of XenServer is the open source Xen® hypervisor, a proven reference standard for server virtualization. The Xen hypervisor is an extremely thin layer of software that resides between the bare-metal hardware and the virtualized operating systems, and allows a physical server to run one or more virtual servers. The Xen hypervisor is widely acknowledged as being the most scalable, robust and secure virtualization platform, delivering the greatest degree of virtualization performance and security in the market. This translates to minimal overhead and near-native performance for virtualized workloads. With more the 45,000 customers worldwide, XenServer is a clear leader in server virtualization.
Application virtualization is a technique for isolating an application from the underlying system and allows IT to run the application on a server in the datacenter but display the application interface on the user's desktop, regardless of the underlying platform or operating system.
XenApp is a Microsoft® Windows® application delivery system that manages and virtualizes all applications in the datacenter and delivers them on demand to office, task and mobile users for optimal application performance and flexible delivery. These applications either run centrally in the datacenter or are streamed to the user's preferred device.
A single copy of the application is managed centrally, reducing support and maintenance costs by as much as 40 percent. With more than 100 million users and 99 percent of the Fortune global 500 as customers, XenApp is the leader in delivering Windows-based applications with the best performance, security and cost savings.
Desktop virtualization abstracts the desktop workload—including the operating system and applications—from the desktop hardware. Combined with server virtualization, multiple desktops can be secured and run on the same host server in a datacenter completely isolated from one another. This desktop computing model is generally referred to as virtual desktop infrastructure (VDI).
XenDesktop is a desktop virtualization and VDI solution that delivers a complete Windows desktop experience as an on-demand service to any user, anywhere. XenDesktop can quickly and securely deliver individual applications or complete desktops while providing a high-definition user experience. Citrix® FlexCast™ delivery technology, included in XenDesktop, enables IT to deliver any type of virtual desktop, on any device. With XenDesktop, IT can manage single instances of each OS, application and user profile and dynamically assemble them which increases business agility and simplifies desktop management. Unlike first-generation VDI solutions that were applicable only to a narrow set of users, XenDesktop with FlexCast is the first product in the industry to support every desktop virtualization model in a single, integrated solution. This approach extends the benefits of virtualization to every employee in the enterprise. With the full integration of XenApp functionality, customers can deliver on-demand applications as a seamless part of their overall desktop management strategy.
Look for our next edition of the Better Virtualisation with Citrix series on "The challenges of application and desktop virtualization". Thank you for reading and look forward to your comments. Don't forget to find out more about Citrix Virtualisation Solutions on our website.
Source: Citrix's Blog
Subscribe to our blogs to get great content delivered straight to your inbox!