Citrix has released the new version of Citrix Receiver for Windows in responds to requests for first time use and login simplifications and supports StoreageZones with a new a ShareFile Sync upgrade. It also works well on Windows 8 Pro machines. You can update your PC to the latest standard version (CitrixReceiver.exe) by visiting http://receiver.citrix.com/. As before, you can configure the standard version of Receiver using an email or server address or activate it by opening a provisioning file.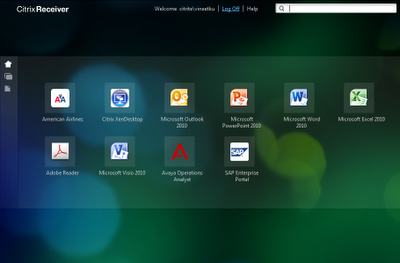 Citrix has also squeeze in two long-awaited capabilities into the CitrixReceiverEnterprise.exe version: Fast Connect (previously only supported with the older Online Plug-in) and an update to Smart Card Pass Through Authentication compatible with the new Windows 7 authentication process.
What's improved in the CitrixReceiver.exe version
Single authentication to the Access Gateway.
Use of a single session for both VPN and clientless access so that a Receiver user logs on once for both types of access and consumes only one license. This feature requires StoreFront and the new AG plug-in for Windows 10.0.69.6.
Smoother logon and logoff operations:
Users are prompted to log on to Receiver only when a logon is required.
Users remain logged on until choosing to log off or exit Receiver, roam from the internal network to an external network, or delete passwords.
A VPN tunnel is established when a remote user performs an action that results in a logon. Internal users are logged on to StoreFront.
Windows 8.
You can use Receiver for Windows 3.4 on Windows 8 Pro devices. (For Win 8 and Win RT tablets, a preview version of a specific version of Receiver for these devices is available on the Windows Store).
Windows Server 2012 R2, 64-bit edition.
Project Thor Integration.
Enables coordinated app delivery with Microsoft System Center 2012 Configuration Manager. See details below.
Other usability improvements:
App and desktop Start menu shortcuts are no longer copied to other devices, enabling users to control the location of shortcuts on each of their devices.
The Request button is removed. Users can simply click to add an app and, if a request for permission to add the app is required, a dialog box appears.
Users will experience fewer dialog boxes when adding and removing apps.
Error messages and certificate warnings are clearer.
Users can reset Receiver to factory defaults.
Pre-launch.
The session pre-launch feature reduces launch times for applications delivered through Web Interface sites.
StorageZones.
Receiver for Windows supports both ShareFile managed cloud storage and on-premises StorageZones. Requires ShareFile Enterprise set up for StorageZones, and the new ShareFile Sync Plug-in. You can find this new plug-in with your mycitrixID here.
What's improved on the CitrixReceiverEnterprise.exe version
Included are two improvements for legacy PNA deployments:
Support for smart card single sign-on for Windows 7 devices.
Enables smart card pass-through authentication from Windows 7 devices.
Support for Fast Connect.
Provides APIs for Citrix partners to rapidly authenticate users to Citrix sessions or desktops.
For information about Receiver for Windows Enterprise, including compatible systems, refer to the Receiver for Windows 3.2 documentation in Citrix eDocs.
What else is new
HDX RealTime Optimization Pack for Lync™ Update
The Lync Optimization pack offers clear, crisp high-definition video calls in conjunction with Microsoft® Lync™ by leveraging the user device for local media processing.
Project Thor Technical Preview (SCCM XenApp Connector).
This Tech Preview enables administrators to orchestrate the tasks required to deliver applications both to end-users and XenApp Servers seamlessly with Microsoft System Center 2012 Configuration Manager. You can download the Tech Preview with a valid MyCitrixID. Works with the CitrixReceiver.exe 3.4.
Access Gateway Plug-in for Windows 8 Beta
Windows 8 introduced some changes that required a redesign. This beta supports globalized end-user experience in English, French, German, Japanese and Spanish languages, a new easy-to-use wizard that guides users through the installation process. and requires Access Gateway 10.0, Enterprise Edition ONLY.
Extended support
Responding to the challenges of planning and moving to the next versions of Receiver for large scale deployments, ach minor version (e.g., v3.3) are extended support for a minimum of 12 months after the release of the next minor version (e.g., v3.4) for non app store provided Receivers. You can find the new and more detailed support policy here. The below illustrates what this mean in terms for specific Receiver for Windows versions:
| | |
| --- | --- |
| Receiver for Windows update | Supported Until |
| 3.0 released Aug 2011 | Dec 2012 |
| 3.1 released Dec 2011 | Apr 2013 |
| 3.2 released Apr 2012 | Jul 2013 |
| 3.3 released July 2012 | Dec 2013 |
Subscribe to our blogs to get great content delivered straight to your inbox!