On December 28, 2012, Citrix
VDI-in-a-Box
5.2 was released to the web for general availability. This new release fully supports the latest hypervisors, Microsoft Lync, and Windows Server 2012 virtual desktops. It also includes new Citrix integration technologies, support for CloudGateway StoreFront providing single sign-on and two factor authentication for remote users, and it is simpler to manage and faster than ever before!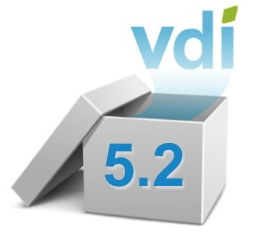 Below is a summary of new features and enhancements contained in VDI-in-a-Box 5.2 release:
Staying current with latest technologies
VDI-in-a-Box 5.2 supports the latest Windows and hypervisor platforms including XenServer 6.1, Hyper-V 2012, and vSphere / ESX 5.1
HDX optimization pack for Microsoft Lync is now supported with this new release so customers can continue to use Microsoft Lync for all their telephony needs seamlessly and with enhanced experience
Support for Windows Server 2012 as a virtual desktop
Integrating tightly with Citrix portfolio
Ability to export VDI-in-a-Box images to customer's environment including XenDesktop that way IT can do incremental upgrades and not a forklift upgrade
Support for CloudGateway 2 StoreFront so IT has the ability to access VDI-in-a-Box desktops from a unified storefront. And users can gain access to their applications and data, all in one place, regardless of their device and location.
Leverage existing license server to centrally manage all VDI-in-a-Box licenses
Enhancing IT experience
Simpler with touchless DTagent install & upgrade. With VDI-in-a-Box 5.2 release not only the Desktop Agent on existing images are automatically updated when migrating from lets say, version 5.1 to 5.2, now it got even better the touchless DTagent installation and upgrade which leads to IT efficiency.
Faster performance with 3rd datastore. IT now has a choice to assign the master images, personal desktops and pooled desktops to 3 different datastores in order to optimize for IOPS and density per physical server.
Easier with new and updated documentation for greater support throughout the deployment process
VDI-in-a-Box is an all-in-one VDI software appliance that enables IT to rapidly deliver centrally managed, personalized virtual desktops to any user, anytime, on any device. The best part of this solution its so simple that a Windows desktop administrator can handle virtualization with a single intuitive management console, eliminating the need for storage specialists, network administrators, database administrators or virtualization experts. VDI-in-a-Box is also the most affordable solution in the marketplace by providing virtual desktops, including infrastructure, for less than the cost of PCs. Using VDI-in-a-Box combined with Citrix GoToAssist®, cloud-based monitoring and remote support tools, IT can monitor all VDI deployments and set up and securely access, over the internet, all VDI-in-a-Box servers from a PC, Mac or iPad using remote support.
Source: Citrix's Blog
Thank you for reading and look forward to your comments. Visit our website to find out more about Citrix Virtualisation Solutions.
Subscribe to our blogs to get great content delivered straight to your inbox!