The financial management applications category is one of the most mature enterprise software sectors and the accounting application is one of the first tools that a growing company rolls out. In spite of its maturity and because of its indispensable nature, financial management tools need to continue evolving to meet the requirements of the business. It is essential, therefore, that the financial management tools of choice be supported by a successful vendor and a strong product management team.
There are a number of well established niches within the financial management category - such as solutions geared more towards corporate offices of large companies, solutions aimed at transnational businesses, and tools with industry-sector specific capabilities, among others. Ovum believes these two important considerations- the vendor's scale (and continued commitment to the product) and the vendor's focus area within the financial management sector, should guide the selection decision.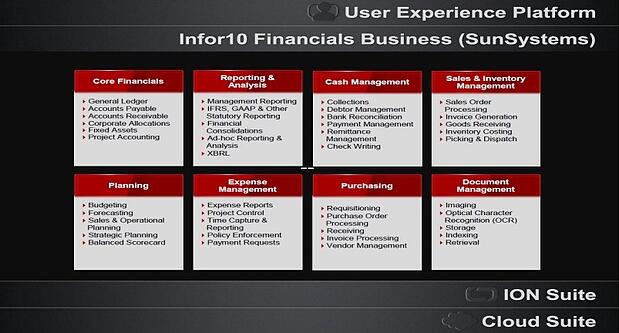 Key findings
The ability to easily support a multi-currency and multi-location global business is Infor10
Financials Business' (SunSystems) most important differentiator. In Ovum's opinion (shaped through conversations with Infor's customers) Infor10 Financials Business' implementation and usage is relatively straight forward, and the tool's simplicity is an important differentiator.
Infor10 Financials Business' scope, while ranging from mid-sized to fairly large companies, does not include enterprise-wide deployment scenarios for really large
See Ovum recommendations, analysis and proposed solutions by downloading our whitepaper now.