Combining a best-in-class financial management solution with line-of-business applications has emerged to be a serious contender among financial management strategies. This financial management framework is not only more cost-effective than the big ERP approach, but it also accommodates the need for agility and flexibility amid changing market conditions.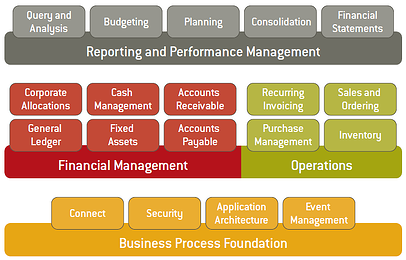 The most suitable candidates for the non-ERP financial management framework are:
Companies investing in line-of-business applications
These businesses deploy line-of-business or vertical solutions that can be integrated with best-in-class financial systems because they can't find the industry-specific functionality in generic ERP systems (e.g., retailers with their retail management systems, or financial services organisations with their trading systems).
Companies developing custom applications
These companies develop mission-critical applications to differentiate themselves in the marketplace. Best-in-class financial management systems fit this environment perfectly, unlike ERP solutions, which may cause problems when integrating with custom applications.
Companies with various legacy systems and applications
These companies have long-established legacy applications as old as the organisations themselves. Therefore, disruptions are likely to occur if significant changes are made to these systems. A best-in-class financial management solution, on the other hand, provides a win-win situation where companies can keep up with change without having to discard or disrupt existing operational systems.
Companies often going under organisational change
These companies require strong adaptability as they frequently experience structural changes, e.g., M&A, new line of business. The solution lies in a best-in-class financial system that has an open, flexible architecture, giving businesses the freedom to incorporate various databases, something that a cumbersome ERP application is incapable of.
Companies coping with escalating financial management demands
Finance departments are facing intense pressure to meet internal as well as external demands. They try to elevate finance to a more strategic level whilst being held back by old, functionality-deprived systems. This is where focused financial management solutions come in, delivering robust capabilities, unlike ERP financial suites, whose focus is not as clear.
***
What makes a perfect financial management system? Find out in the full white paper "Financial management in the era of change: Five key requirements that every CFO should know."