HCM City – March 21st 2013 – Speakers from TRG, CIMA and Infor walked the audience through the Office of the CFO concept for the first time at an event held on March 20th at New World Hotel.
Sponsored by CIMA and Infor, the morning seminar entitled "Office of the CFO: Change the way work is done" was organised by TRG. Around 140 CFOs, CEOs, chief accountants, high level management and senior staff from 90 companies attended the event.
Guests were greeted with light refreshments before proceeding to the one and a half hour presentation by 4 speakers. They were Rick Yvanovich FCMA CGMA FCPA (Aust) – TRG's CEO, Pham Hong Thai– TRG's Deputy General Manager, Venkkat Ramanan - Head of South East Asia, CIMA and Richard Wan - Senior Manager, Financial Solutions Group, ASEAN, Infor. Through lively presentation and examples, attendees learned about:
The Office of the CFO concept: Changing roles of the CFO, evolving operating model
Complete Financial Management: Adapt to changing business needs, eliminate manual processes, and get the information you need even before you need it
Performance Management: A robust business model, the 4 Rs theory and the importance of a performance management system
Governance, Risk and Control: GRC frameworks, best practices and enabling technology
Business Insight: Real-time, in-context business intelligence
In the final Q & A panel session, the speakers shared their views and advice in a variety of business challenges such as planning, budgeting, strategy and process automation. Moreover, the networking session afterwards gave guests plenty of opportunities to mingle with speakers and dedicated consultants from TRG, who would address additional questions with personalised treatment.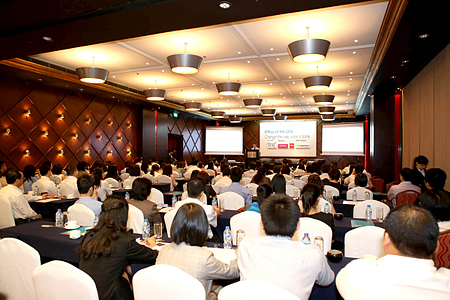 Even though this was the first time TRG had organised an event on the Office of the CFO concept, the feedback received was generally encouraging. Rick Yvanovich, TRG's CEO, said: "Being a management accountant myself, I understand the pressures on CFOs and finance professionals nowadays are high. Therefore, we strive to address what really matters and outline what we know by heart will help them overcome the challenges in today's complex world".
Pham Hong Thai, Deputy General Manager of TRG said: "By putting together an event of this scale, we hope to contribute to the community, impart useful information to businesses, guide them through the process of finding the best practices or best management solutions. Also, we listen to direct feedback from users to serve them better in the future".
Here are some photos from the event:
###
About TRG
TRG is a market-leading global professional services firm focused on delivering technical excellence. TRG adds value in a challenging and dynamic market by delivering the right IT solutions that work quietly and brilliantly in the background, freeing our customers up to focus on their core. We do this by hiring people we believe in, and who believe in TRG, and empowering them with the skills and processes to outthink our competitors and deliver genuinely better solutions for our customers. We are a genuine consultant and partner who deeply understands the challenges of our customers' business and is always ready to go the extra mile to deliver exactly the right solution for them. It is not about what we sell, it is all about how we think. Our solutions include: Financial Management, Enterprise Performance Management, Retail Management, Virtualisation, Hospitality and People Performance Management. To discover more about TRG, please visit www.trginternational.com