Hanoi – May 20th 2013 – The Office of the CFO concept, which encapsulates current challenges as well as solutions for CFOs and the finance function, was introduced for the first time in Hanoi by TRG.
The event "Office of the CFO: Change the way work is done" organised by TRG, with CIMA, Infor as sponsors and Webketoan as the media sponsor, took place on May 16th at Hanoi Hilton hotel. Around 80 CFOs, CEOs, chief accountants, high level managers and senior staff from 70 companies attended the event.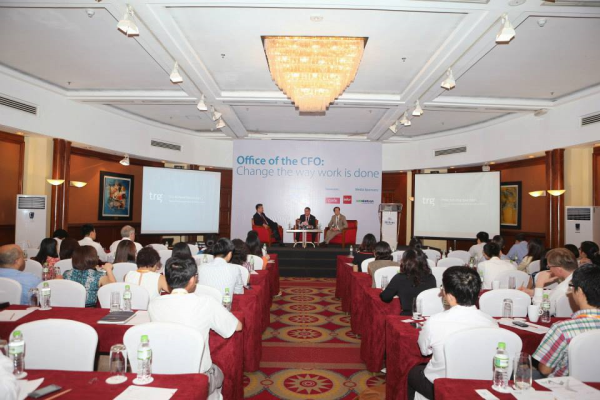 With decades of experience in management, finance and technology, three speakers took turn to share their specialist knowledge and insights. They were Rick Yvanovich FCMA CGMA FCPA (Aust) – TRG's CEO, Pham Hong Thai– TRG's Deputy General Manager, and Eric Lee – Regional Vice President, Financial Solutions Group - ASEAN & India, Infor Corp. During the one and a half hour presentation, attendees learned about:
The Office of the CFO concept: Evolving roles of the CFO; combination of analytics, process automation, collaboration; the ability to work the way you live
Complete Financial Management: Adapt to changing business needs, grow in any market, and get the information you need even before you need it
Performance Management: A robust business model, the 4 Rs theory and the importance of a performance management system
This was the first time TRG had organised an event on the Office of the CFO concept in Hanoi, and the feedback from attendees was very positive. Dong Nguyen – Finance Manager of Ciputra Hanoi Club House - said: "I've been to many large finance seminars and heard many foreign speakers; but I was particularly impressed with Rick Yvanovich's presentation. What he shared was very useful for my daily management activities. The way he conveyed the issues and delivered the message was also captivating. I really hope TRG will continue organising seminars like this in the future".
Rick Yvanovich, TRG's CEO, said: "The world is changing day by day and it is imperative that businesses keep pace while still being able to focus on their core. We hope that companies will take a proactive approach and embrace change rather than adopting a piecemeal approach or avoiding it altogether. Thus, we'll do whatever we can to advise, suggest and help businesses to control, adapt and grow in this increasingly competitive environment".
Click here for more photos of the event.
***
About TRG
TRG is a market-leading global professional services firm focused on delivering technical excellence. TRG adds value in a challenging and dynamic market by delivering the right IT solutions that work quietly and brilliantly in the background, freeing our customers up to focus on their core. We do this by hiring people we believe in, and who believe in TRG, and empowering them with the skills and processes to outthink our competitors and deliver genuinely better solutions for our customers. We are a genuine consultant and partner who deeply understands the challenges of our customers' business and is always ready to go the extra mile to deliver exactly the right solution for them. It is not about what we sell, it is all about how we think. Our solutions include: Financial Management, Enterprise Performance Management, Retail Management, Virtualisation, Hospitality and People Performance Management. To discover more about TRG, please visit http://trginternational.com