Infor Ming.le, is a new comprehensive platform for social collaboration, business process improvement and contextual analytics. This most innovative social media concept enables an employee to work more effectively as it brings social communication together with business processes. The core difference between Infor Ming.le and other information sharing technologies is Ming.le is fully embedded with the organisations main systems for example ERP and SunSystems.
The main function of Infor Ming.le is to provide a centralied platform for collaboration for users to more easily to organise conversations into enterprise-wide streams; share key screens, data, and attachments. Employees work more effectively from across the enterprise with relevant data displayed automatically based on the context of discussions and through capabilities such as:
• Contextual intelligence: Integrated with the organisation's application e.g. ERP, SCM, EAM and SunSystems, Infor Ming.le combines real-time transactional information and displays information relevant to the tasks without requiring the user to search and store the results
• Tasks and alerts: Infor Ming.le helps employees keep up with important activities and processes by transmitting information in real time. Users can filter, view, and monitor information to keep tabs on the items that matter most. Besides, by including workflow, the system can push approvals and / or alert the appropriate people to speed up their resolution when problems arise.
• Social objects: Employee can follow particular social objects and people and deliver automatic notices based on defined parameters. For instance, a sales person can be notified of all activities or information relating to customers, status of order received, or invoice paid, etc.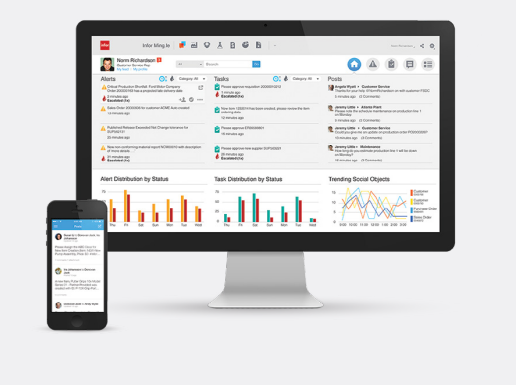 User Interface of Mingle
Benefits Infor Ming.le bring to users:
• Increased productivity by providing new ways of delivering information. Employees can speed up their workload by reducing internal email communication; instead, they can easily find information and marry communications with the relevant business processes.
• Retain vital corporate knowledge: Using this system will help organisations to keep all the information in one place as opposed to potentially losing it in tools such as email or instant messaging.
• Attract and retain top talent by a consumer-inspired experience delivered by this technology. Also, this platform creates a work environment that can satisfy increasing employee expectations.
• Improve and speed decision making by updating relevant information; then knowledge sharing is also much easier.
Infor Ming.le makes a difference
By embedding a centralised collaboration platform within an organization's enterprise systems, Infor Ming.le turns information into an asset, eliminates information silos, avoids reinventing the wheel so that employees can work better, and makes faster and better decisions. It can be called innovation of social media; some others name it social business.
The bottom line is that people today regularly use social media as a form of communication, Ming.le brings social into your enterprise systems enabling people to communicate at work the same way they communicate outside work.
About TRG International
TRG International is a market-leading global professional services firm focused on delivering technical excellence. The company has been successful for more than 20 years in providing SunSystems for finance and accounting systems. TRG International adds value in a challenging and dynamic market by delivering the right IT solutions that work quietly and brilliantly in the background, freeing our customers up to focus on their core. We are a genuine consultant and partner who deeply understands the challenges of our customers' business and is always ready to go the extra mile to deliver exactly the right solution for them. It is not about what we sell, it is all about how we think.
Our solutions include: Financial Management (Infor SunSystems), ERP (Infor LN and Infor Cloudsuite Industrial SyteLine), Dynamic Enterprise Performance Management (Infor CPM), Hospitality (Infor SunSystems for Hotels), Retail Management (Retail Pro 9), Virtualisation (CItrIx) , Professional Service Management and People Performance Management (system@work). To discover more about TRG, please visit http://trginternational.com