In part one of our series about building, retaining and developing a sales force, we discussed how your first and foremost objective is to recruit salespeople who satisfy all of your organisation's aptitude and attitude requirements. We hope you answered the question we raised at the end of the previous part on your own: "Suppose that you successfully hired the right employees. Will your salesteam inevitably run well?"
This question gets a "no" from us. Hiring right guarantees that the people you recruit should perform well in their jobs, but it doesn't mean that your team has been set up to work well.
The DNA of salespeople holds a competitive spirit, along with ambition and the need for freedom and independence. These traits, normally, benefit overall performance, as they motivate people to exert themselves and reach higher results.
However, if the team gets an overdose of competitive spirit, overall morale will fall: The top performers will sit at the top and not bother to help the new hires, while other members will morph into rival groups. Your team will end up entangled in internal competition, giving your competitors the chance to crush your organisation.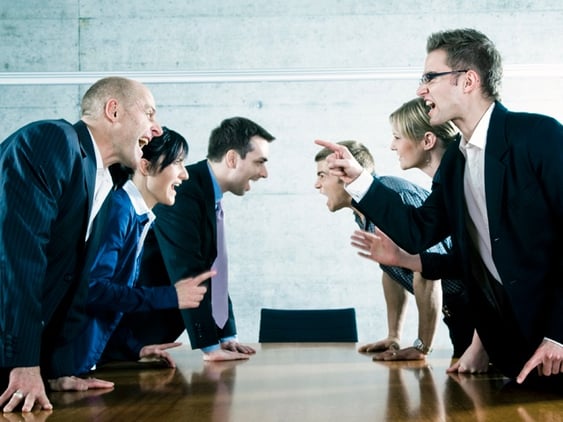 Salespeople need competition to boost their drive for achievement. That's what all employers look for. But if you are worried that competitiveness is heating up your salesteam, check out the following tips for improving your salesteam's cohesion.
Personal goals matter but shared goals do too
Each salesperson has his/her own personal goals—an annual quota, a number of calls per meeting ratio, improving relationships with clients and so on—but this doesn't mean the salesperson should only focus on these personal goals and ignore the shared goals of the team. Having them acknowledged the big picture of where the team is heading, and giving them the opportunity to align their personal goals with the shared goals. Having a new client sign the deal not only means the salesperson in charge has a chance to practise and improve his/her skill of building and maintaining customers relationships but also that the team as a whole has taken one step closer to their ultimate goal of sales.
Also, a hard target, such as a number of deals that must be closed each month only adds pressure to the salespeople, as they have to rush to close a deal by a due date. And this kind of target worsens the in-team rivalry when your team members try to outrun each other for the rewards (which we are going to discuss next week). To reduce the risk of these consequences, periodic activity-based goals, such as number of cold calls per week or number of appointments set per week, are advised. These activities affect the ultimate goal (number of deals closed or appointments per deal ratio), but they are aimed more at individual salespeople and less likely to stir up a war among members.
Schedule time for strengthening the bond
Often, companies promote their organisational cultures with something along the lines of "Work hard, play harder" or "Work smart, play hard." But some might argue that these are not applicable for salespeople because they are always on the move and have little presence at the office or time to hang out with the others there.
However, you must still pay attention to team bonding, or your salesteam may become merely a collection of individuals working separately. Even worse, the members' engagement and satisfaction with the work environment may drop, leading to a reduction in results.
To solve this, you may consider such activities as encouraging informal conversations before meetings, arranging team lunches or allowing to socialise during work hours. These acts will help the team members become closer with each other and create a more harmonised and friendly atmosphere among the team.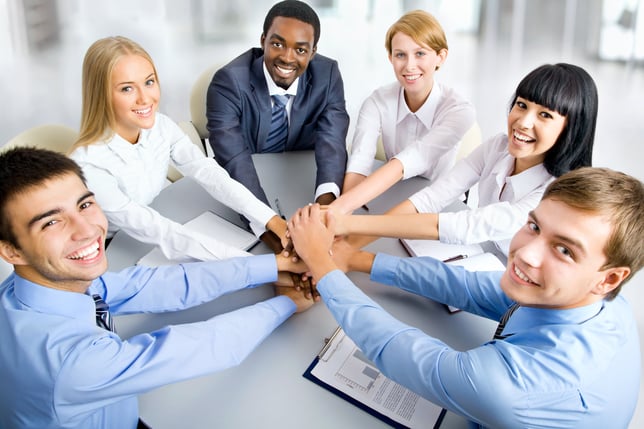 Praise teamwork and progression
It is normal to praise a single salesperson when he/she successfully closes a big deal or achieves something remarkable. This will motivate the salesperson to continue to achieve results. But don't only offer your appreciation to the superstars! You don't want your team to think that closed deals are the only ones that matter, do you?
You should also give thanks when your teamworks together. Just some short comments like "Good job, team!," "Thank you all for doubling our results this month," or "We are progressing well! You've all done excellently!" will not only positively impact the top performers but also all the "warriors" as you might call the other team members.
Additionally, you need to recognise your team's progress and results publicly. For instance, announce your team's monthly statistics during a company gathering, clarify the upwards trend and don't forget to congratulate them on such an achievement. This way, the whole organisation will think of your salesteam as a unit that is running in unison.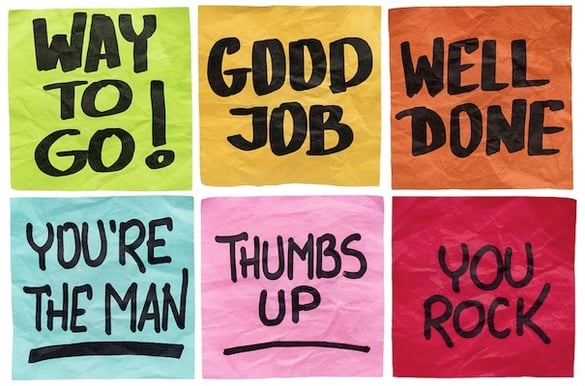 Competition is essential for a sales team, but it should be a healthy competition instead of a cutthroat one. After all, even though your salespeople might work individually, they contribute to a shared goal. Therefore, it is highly recommended that you strengthen the relationship among the team so that everyone works together in an atmosphere that helps them fully tap into the typical characteristics of salespeople.
But what we have discussed in this second part is only from a team perspective. What about motivation on a personal aspect? What can you, as sales managers, do to help improve your salespeople's performance and keep them motivated over time? Wait for the third part of our blog series Build, Retain and Develop Your Sales Force for the answer.
**If you find the blog informative, please subscribe to TRG's Blog in order to get notification on new updates.