In a recent survey jointly conducted by JDA Software and KPMG1, in which key innovation investments across retail, manufacturing, and logistics are laid out, supply chain visibility and traceability dominated with 77% and have been crowned for 2 consecutive years, followed by others. And to a marked extent, those are all driven by the latest technological breakthroughs such as inter alia, Artificial Intelligence, Machine Learning, cognitive analytics, and blockchain.
Hitting these sweet spots may have the potential to utterly redefine how you approach Supply Chain Management (SCM), for the better.
In this article, we will shed light on the eight SCM trends that retail and manufacturing organisations should pay close attention to or risk being left behind.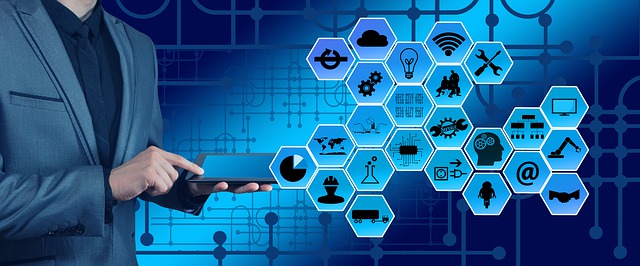 8 tech driving Supply Chain Management
1. Artificial Intelligence/Machine Learning
The advent of Artificial Intelligence and Machine Learning (AI/ML) represents a significant landmark in the digital transformation and for that matter, these two play a vital part in the digital disruption of all industries as of late, and supply chain is a part thereof.
The aforementioned survey by JDA Software and KPM highlighted that 80% of respondents reckoned AI/ML the most impactful technology – indicating the immense enthusiasm in and broad adoption of these tools.
That is for good reasons. AI/ML is a hotbed for many other groundbreaking technologies – be it Robotic Process Automation (RPA), driverless vehicle, chatbot, among others. These applications automate and replace humans in a wide ride range of tasks. Chatbot, for instance, could autonomously approach and reply to suppliers/customers for request placement and execution.
Once AI and ML are deployed hand-in-hand, SCM practitioners are enabled to drive demand forecasting and planning in a much more precise and innovative manner; this integration also standardises operations to conform the overall process to the ever-advancing digital transformation.
Read more: How Machine Learning is Guiding these Top 5 Companies to Success
2. Advanced Analytics
In a data-driven era, acquiring a huge set of data is no cakewalk, but then again, that is just a very first step into the process. You need a tool capable of drawing the best out of these volumes of data or else they would sit idly in the database, and end up being wasted. Quality over Quantity in this case.
As a quick fix, people resorted to Advanced Analytics and found their resolution.
By leveraging forward-looking insights derived from this tool, SCM practitioners are armed with actionable recommendations and predictions. This, in turn, enhances strategic-planning and provides a sufficient ground for detecting and addressing unusual patterns.
Predictive Analytics, a subset of Advanced Analytics, could forecast demand based on social, news, pricing, and weather data in real-time. Such capability helps ensure supply meets demand and vice versa, cutting carrying cost, and accommodating customer's unforeseen needs in anticipation of unforeseen peak time.
3. Internet of Things
If the digital transformation is a race, supply chain management may manage to finish last.
Most of the components constituting a supply chain are non-digital - vehicles, machinery, and mechanical devices. As a result, the sector is highly fragmented in terms of both data unification and coordination among individuals, and between individuals and machines.
The latest practice of adopting Internet of Things allows for interconnectivity, remarkably, installing smart sensors onto equipment and appliances operating on manufacturing floors.
The use cases of this tool in the supply chain context are extensive, one of which is improved operational efficiencies: by incessantly tracking assets and updating inventory conditions, these smart sensors make ways for better warehousing, product forecasting, and quality control.
Other profitable applications include enhanced maintenance and maximised uptime. All for better performance and a better profit margin overall.
Read more: How will the Internet of Things (IoT) impact Manufacturing
4. Immersive Technologies
From Virtual Reality to Augmented Reality and now Mixed Reality. Never in human history have we witnessed such an awe-inspiring technology. In the B2C market, or to put it bluntly, from non-professional's perspective, Immersive Technologies could immediately evoke enthusiasm: Pokémon-Go, Aruler, Google Lens, to name a few.
As to Supply Chain and logistics professionals, Immersive Technology is viewed as the sharpest tool in the shed, all the more for making their 9-to-5 mentality less dull and more enjoyable. Think about the menial task of inventory picking in the distant past, now with AR-inspired applications, warehouse workers are enabled to perform their job completely hands-free.
By the same token, smart glasses – a sophisticated and intuitive wearable that is inspired by sci-fi movies – are now a reality and applied to display on-demand information.
In short, Immersive Technologies supports automation and supply-chain planning as well as improves data visualization and drives performance.
5. Digital Twin
Simply put, a digital twin is a computerised model of all physical entities involved in the supply chain process and is able to operate independently from its real-world counterpart. Occupying a slot in Gartner's Top 10 Strategic Technology Trends for 2018 illustrates how disruptive this solution is.
In the domain of Supply Chain Management, digital twin provides a real-time picture of the current performance, which serves the purpose of better inventory monitoring. Likewise, such replica of the physical infrastructure is generally used for the traceability of potentially out-of-order devices. But its applications are not limited to that: when coupled with machine learning, digital twin could provide manufacturers with a future outlook into the process – therefore optimizing preventative maintenance.
6. Blockchain
At first glance, blockchain encompasses all facets of the ecosystem of the supply chain process by establishing a shared network. This all-inclusive ecosystem, meaning it embraces every each physical and digital and living entity, provides end-to-end visibility and deeper insights into the supply chain process.
Furthermore, information being fleshed out unlocks the ability to augment transparency and accountability across the ecosystem; as every individual who is involved is able to verify what she and others are doing. This helps ensure regulatory compliances being met and eliminate the need for an intermediary to set things straight, such as a given financial institution, which is costly and time-intensive for most parts.
Digital ledger is another perk when applying Blockchain into SCM, whose job is to incorporate all real-time transactions data. This added-value has the potential to dramatically reduce days of sales standing, thereby accelerating cash flow and driving the bottom line.
Blockchain is yet to be exploited to its fullest.
Read more: Blockchain Business Applications: Far Beyond Bitcoin
7. Robotic Process Automation
Robotic process automation (RPA) typifies the height of technological advance that AI has come to reach.
Empowered by machine learning and natural language processing, the extent to which RPA solutions could resemble humans is remarkable. They can understand context, if not language, as well as learn and execute repetitive tasks.
Successfully deploying RPA across the supply chain process, enterprises are enabled to drive automation, optimise cost, streamline operation and eliminate keying errors that are easily committed by their human counterpart. On top of that, employees are freed from monotonous errands to focus on the high-value and ''thinking'' pieces of work.
Read more: A New Robotic Revolution In Manufacturing
8. Autonomous Things
Another AI-empowered breakthrough is autonomous things. Some prime examples are drones and self-driving vehicles. These devices have the potential to drastically lighten the labour-intensive workload for they require very little to no human intervention. As an example, self-driving vans could operate around-the-clock except for some refills once in a while.
Like our article? Subscribe to our blog to never miss one!

Sources:
1. JDA Software and KMPG, JDA & KPMG Digital Supply Chain Investment Survey, May 13, 2019, https://jda.com/knowledge-center/press-release/new-jda-and-kpmg-survey-says-artificial-intelligence-is-the-most-impactful-supply-chain-technology.