What are CFOs' top priorities for 2016? Consulting firm Protiviti tries to answer this question in its 2016 Finance Priorities Survey. Collecting responses from 650 CFOs, vice presidents of finance, corporate controllers, and other financial management professionals, the survey ranks the priorities using five categories: process capabilities (financial transactions); process capabilities (financial analysis); emerging issues; technical capabilities. The infographic below shows these five main findings.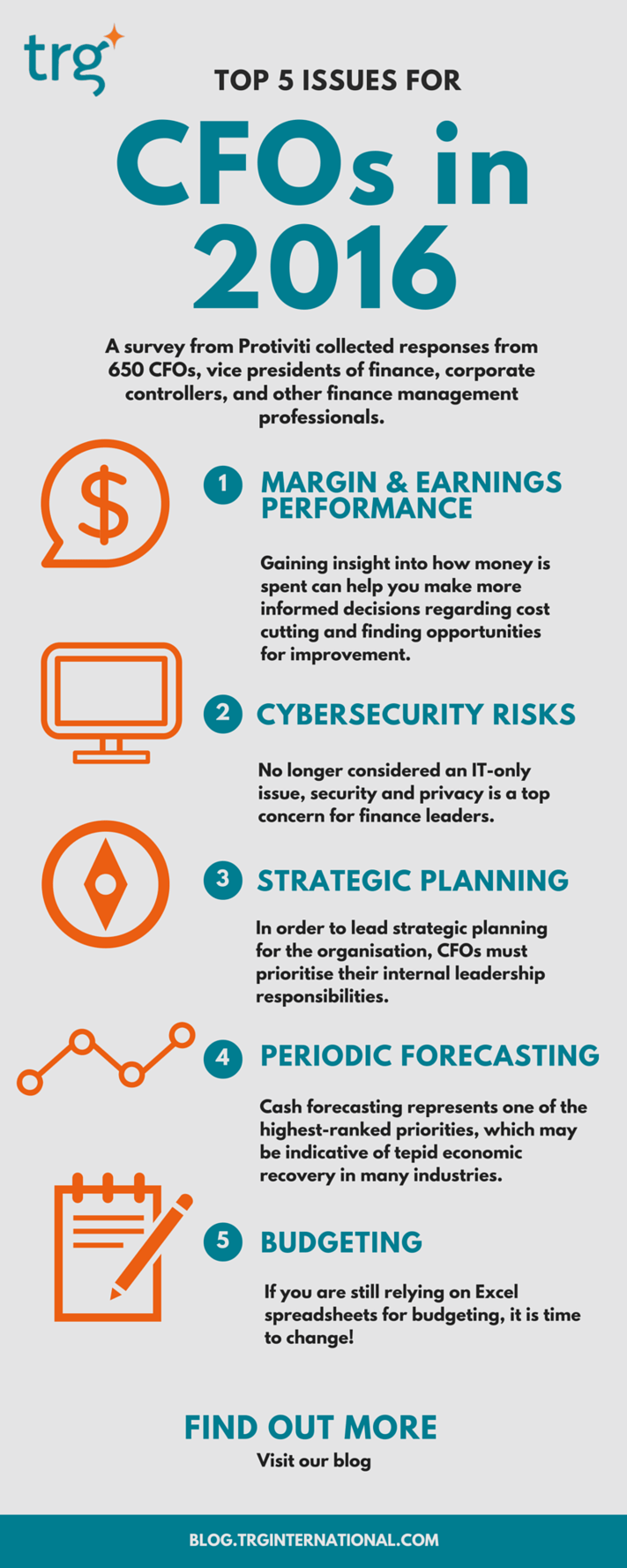 Unsurprisingly, CFOs and finance executives continue to focus on the strategic finance functions, rather than accounting operations. In addition, there are more areas considered critical by CFOs now than in the past. In 2014, three key areas ranked 7.0 or higher as a priority by finance executives. This year, there are seven key areas with a ranking of 7.0 or higher.
Margin and earnings performance ranks as the top priority among all respondents. "With the modest economic recovery of the past few years, finance functions are preparing the enterprise for challenges that could materialize at any time by working to preserve margins and by sustaining a strong focus on working capital management," Ryan Senter, Protiviti managing director, explains.
An issue long considered IT-only, cybersecurity is now a top concern for the CFO. "From a finance perspective, there are significant concerns regarding the security of financial information as well as the financial impacts of the security of all data", says Protiviti.
Leading the organisational strategy is also a significant concern for CFOs. They are increasingly reaching out to operational units to achieve company directives, set goals, and identify actions to achieve those goals and find the resources to execute those actions.
The last key areas of the Top 5 are forecasting and budgeting. To help drive value from the financial data within an organisation, CFOs want better, more accurate and timelier data collection, data analysis, reporting, budgeting and forecasting capabilities. Such priorities highlight the significance of a single, real-time version of the truth. In financial planning and analysis, having the right information at the right time can make the difference between a decision that benefits your business and one that ruins it.
The survey's findings shed more light on the evolving roles of CFOs in today's business. They are expected to do more, and achieve more. "CFOs and finance executives recognise that the execution of their priorities increasingly depends on their ability to lead outside their function," says Protiviti.