Investors are usually tempted to skip the seemingly wordy introductory pages as well as footnotes. If the financial statements are all about figures and hard data, these non-financial sections of the corporate report add the "human touch".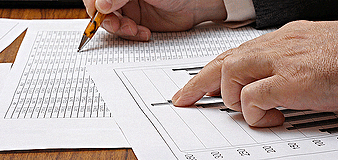 Letter to shareholders and business review
Whether investors decide to view these pages first or last during the course of reading an annual report, they should be able to determine whether management emphasises the importance of financial strength, cash flow, working capital controls and the company's place on the competitive environment.
Read more: Intangible assets - a new financial management challenge
Well-written introductory pages describe how the company's strategic planning process forecasts and adapts to the ever-changing market conditions, industry or competitive landscape and thus provides insight into the quality of management and their commitment to increasing shareholder value over time. Here are some tips:
Break the analysis into key questions
Seek answers to those questions
Identify problems if the answers are unclear or absent
Go over the financial review to see if the figures tell the same story
Read the same sections in previous annual reports to get a historical context
Footnotes to the corporate reports
Readers should be able to find data relating to issues such as:
The company's policies
Inventory valuation method
Asset impairment
Investments
Income tax
Accounting policy
Non-recurring items
Employment and retirement
Stock options
Long-term debt
Liabilities
Future contracts
Credit and market risks
Fair value of financial instruments
Business segments
Audit reports
It is crucial that the company received a clean bill of health from external auditors. Readers should look for information relating to:
The credibility and qualifications of auditors
The steps taken to ensure the financial statements meet the approved standards of practice
The compliance of the Financial Statements to general accepted accounting principles (GAAP)
The emphasis of matters by auditors, if any
Read more: 3 ways to weather the perfect storm of corporate reporting
***
The full whitepaper is finally here. Get it now for a comprehensive overview of corporate reports: what they consist of and how to read them effectively.
Like what you've read? Click here to subscribe to this blog!