HCM City – 11 Jun 2012 – TRG International will be taking part in World Blood Donor Day organised by AmCham and other organisations on June 14th 2012. TRG International is also one of the event's sponsors.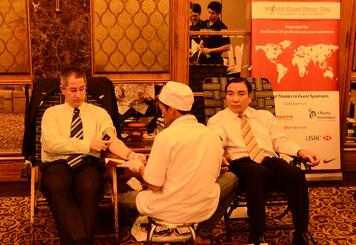 To celebrate the theme of this year's World Blood Donor Day - "Every blood donor is a hero", besides encouraging staff to give blood, TRG International will also participate in AmCham's Photo Contest. The prizes will go to those whose stories and images best honour frequent blood donors and encourage new ones.
"Every blood donor really is a hero as any blood donated is a gift of life to recipients. I can't think of any other activity an individual can voluntarily do with such little effort that has such a big impact on the lives of others" said Rick Yvanovich, CEO of TRG International and AmCham's Representative.
Each year TRG International organises at three or four blood donation drives as part of its annual Corporate Social Responsibility program. Earlier in February, TRG International organised their own event for employee blood donors directly with the Ho Chi Minh City Red Cross. The next of the company's blood donation drives this year will take place in October.
Chau Cao, a BIS intern at TRG International, said: "I've registered to donate blood twice and with this year's theme, besides feeling good for doing something right, I can see that my action is more recognised and honoured".
###
About TRG International
TRG International is an independent provider of business and people performance solutions and supports thousands of users in 70 countries. Clients range from small domestic companies to large multi-national companies in both the private and public sector. Please visit www.trginternational.com/solutions or contact csr@trginternational.com