HCM City – August 8th, 2013 – Following the success of previous seminars, TRG worked together with CIMA, and Infor to introduce the "Office of the CFO: change the way work is done" seminar to companies in southern Vietnam one more time. The event was well received by more than 120 representatives who are CFOs, CEOs, Chief Accountant, General Directors and Managers from hundreds of companies in various industries in Vietnam, especially in Ho Chi Minh City.
At the seminar, experts from Infor, CIMA and TRG, namely Mr. Eric Lee - Regional Vice President, Financial Solutions Group - ASEAN & India, Infor; Mr. Rick Yvanovich - FCMA, CGMA, FCPA (Aust.), Founder & CEO, TRG International, Board Member, Regional Board SEA CIMA; and Mr. Pham Hong Thai - Deputy General Director, TRG International, shared their points of view regarding the different roles of CFOs today, what can they do to move away from detailed financial management functions to focus more on the added-value development of strategy as well as how technology could help to improve business performance
Eric, Rick and Thai (left to right) shared
their views during the 40 minutes Q&A session
This seminar also carries at least 1 CPD Hour for those who have CPD requirements such as CIMA, CGMA, CPA and ACCA.
Although this is not the first time that TRG introduced this Office of the CFO concept to the Vietnamese community, the seminar still gained high exposure from the press. News from this event are widely published and broadcasted by Vietnam Logistics Review, VTC10, SCTV8, HTV9 and FBNC.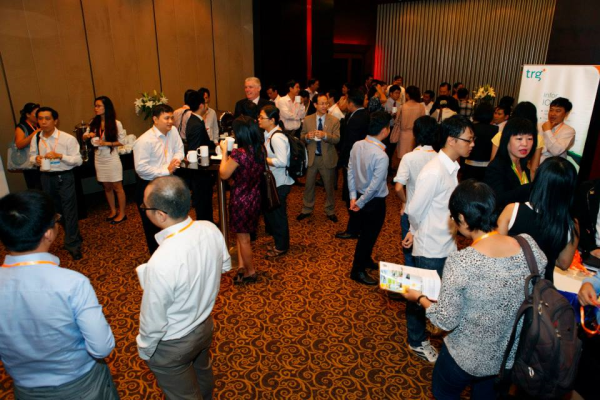 Guests enjoyed the networking and tea break
Mr. Rick Yvanovich, Founder and CEO of TRG said: "By putting together an event of this scale, we hope to get closer to all companies in Vietnam, understand and share experiences with them as to help them improve their business performance. As always, we appreciate all the input in order to serve them better in the future".
Click here for more photos of the event.
***
About TRG
TRG is a market-leading global professional services firm focused on delivering technical excellence. TRG adds value in a challenging and dynamic market by delivering the right IT solutions that work quietly and brilliantly in the background, freeing our customers up to focus on their core. We do this by hiring people we believe in, and who believe in TRG, and empowering them with the skills and processes to outthink our competitors and deliver genuinely better solutions for our customers. We are a genuine consultant and partner who deeply understands the challenges of our customers' business and is always ready to go the extra mile to deliver exactly the right solution for them. It is not about what we sell, it is all about how we think. Our solutions include: Financial Management, Enterprise Performance Management, Retail Management, Virtualisation, Hospitality and People Performance Management. To discover more about TRG, please visit http://trginternational.com