TRG Talk - Cloud this August with the topic "Cloud Computing: What's In It For Startups?" will focus on identifying common demands and issues on operating a startup business. Startups will have the opportunity to network and have an in-depth discussion with our speakers, Lex Nguyen - Director of Cloud Services- VNG Corp!
Investing wisely your capital resources while unleashing your full resources' potential are not easy tasks, especially for a startup. A solution to these issues is necessary than ever. That's why

Cloud computing

is deserved for you to consider as its low-cost and convenient features.
Cloud computing is a model for enabling convenient, on-demand network access to a shared pool of resources (e.g. networks, servers, storage, applications and services) that can be rapidly provisioned and released with minimal management effort or service provider interaction.
According to a Linkedln's survey, 72% of companies have at least one application in the cloud or a segment of their IT, and Cloud computing is expected to grow to 78% by the year 2020.
In addition, in this upcoming workshop, we will hear the speaker, Lex Nguyen, share more details about:
What makes Cloud Computing thrive to the top worldwide technology trends?
How does Cloud benefit Startups?
How to start migrate on Cloud?
And how to choose a suitable Cloud programs from your Cloud providers?
This workshop is free of charge and will be held at PJ's Coffee Vietnam on August 21st by TRG International.
Seating at the event is limited. For more information or to register, please visit our page: https://blog.trginternational.com/trg-talk-cloud-aug-2019-en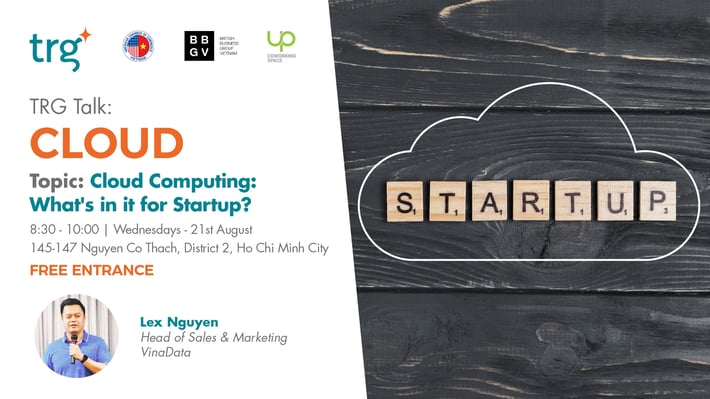 About TRG International
TRG International is an IT, Talent and F&B company. We help people and businesses to shine. We help people be the best they can possibly be by selecting the right people for the right job and developing them to their full potential. We help companies by providing an IT solution that works quietly and brilliantly in the background, freeing them up to focus on their core and not having to worry about their IT systems. We do this for more than 1,000 clients in 80 countries.