The month of October brings you the most anticipated TRG Talk: "The Five Practices of Leadership for Exemplary Project Managers." The workshop's main focus will be on unleashing the best in you and your team for greater success with five practices. The Talk will be delivered by none other than our reputable guest speaker, Brian O'Reilly, MBA Program Coordinator, Vietnamese-German University.
According to the PMBOK guide published by PMI, leadership is "the ability to get things done through others. It consists of focusing the efforts of a group of people toward a common goal and enabling them to work as a team."
What makes a great project manager?
Strong management and leadership skills are the two essential factors one must possess to become a successful project manager. In contrast with management skills, which we gain from experience and practice, leadership skills can be learned, and leadership qualities can be developed.
Leadership is more of an art than science, and thus, it needs time and efforts to hone over time.
To unleash your leadership potentials, join us on our "TRG Talk – Project Management: The Five Practices of Leadership for Exemplary Project Managers!" This workshop welcomes Mr. Brian O'Reilly, founder & member of the International Project Management Association of Vietnam (IPMAV) and an MBA Program Coordinator of Vietnamese-German University. Brian will share with us the five building blocks to great leadership in project management:
Model the way;
Inspire a shared vision;
Challenge the process;
Enable others to act;
Encourage the heart.
TRG Talk: Project Management is a free event, which will be held at our regular location - PJ's Coffee Vietnam, on October 3rd, 2019.

Seating at the event is limited. For more information or to register, please visit our page: https://blog.trginternational.com/trg-talk-project-management-oct-2019-en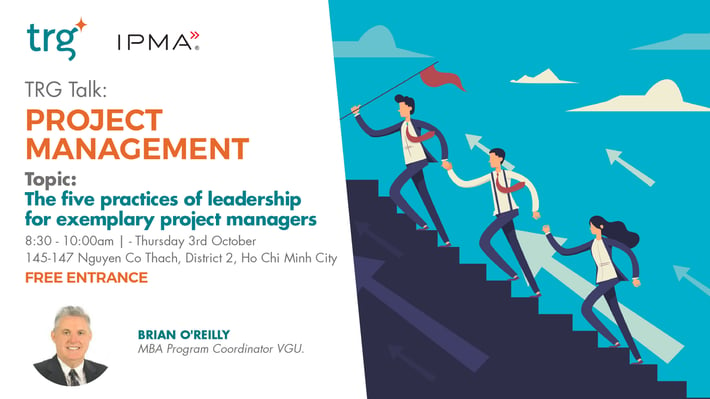 About TRG International
TRG International is an IT, Talent and F&B company. We help people and businesses to shine. We help people be the best they can possibly be by selecting the right people for the right job and developing them to their full potential. We help companies by providing an IT solution that works quietly and brilliantly in the background, freeing them up to focus on their core and not having to worry about their IT systems. We do this for more than 1,000 clients in 80 countries.