Ho Chi Minh City - Mid-Autumn Activity is one of the most important festivals that represents the tradition and national identity of Asian countries, including Vietnam. However, still unfortunate lives remain among us, such as orphans and abandoned children who are not fully able to enjoy the Mid-Autumn Festival. TRG, in collaboration with Blue Dreams Group, sponsored the event "Lantern Festival- Connecting Love". The event was organized on Sunday, August 31st at Hoa Lu Stadium, which attracted many employees from. Besides sponsoring and organising the event as part of the collaboration, TRG also joined other networking events with children by making lanterns, origami and handmade gifts.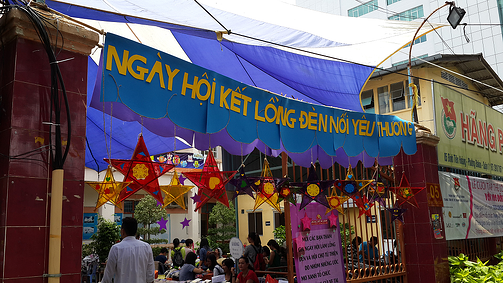 The message behind this event was meaningful since TRG along with Blue Dreams Group, not only organised and donated to this event to deliver joy to disadvantaged children but also allowed other organisations to come and conduct a flea market for further donation. The flea market which took place at Hoa Lu Stadium on August 31st raised remarkable funds by selling products for charitable purposes with the underlying message "Buy and Share", to encourage visitors to purchase and help disadvantaged lives for a better Mid-Autumn Festival.
After sponsoring the event, TRG recognised the success of collaboration with Blue Dreams Group in delivering a meaningful Mid-Autumn Festival for disadvantaged children by contributing 1,500 student notebooks, candy, toys, etc. from the company itself as well as joining hands to create 200 lanterns in total with the group. The event, according to participants' feedbacks, was successful in delivering joy and happiness for disadvantaged children as well as reminding the meaning and value of the Mid-Autumn Festival for Vietnamese citizens.
Following the event, TRG has planned to travel to Can Gio on this Sunday, 7th September to deliver these gifts to disadvantaged kids so they can enjoy an exciting Mid-Autumn.
You can see more image of the "Lantern Festival – connecting love" event here.
ABOUT TRG
TRG is a market-leading global professional services firm focused on delivering technical excellence. TRG adds value in a challenging and dynamic market by delivering the right IT solutions that work quietly and brilliantly in the background, freeing our customers up to focus on their core. We are a genuine consultant and partner who deeply understands the challenges of our customers' business and is always ready to go the extra mile to deliver exactly the right solution for them. It is not about what we sell, it is all about how we think.
Our solutions include: Financial Management (Infor SunSystems), ERP (Infor LN), Enterprise Performance Management, Hospitality, Retail Management (Retail Pro), Virtualisation (Citrix) , and People Performance Management (HR). To discover more about TRG, please visit http://trginternational.com