Ho Chi Minh City – According to Adecco (2014), Viet Nam is having a golden population structure and Y generation (from 24-34 years old). Ms. Nicola Connolly, CEO of Adecco, also stated that this generation is entering the labour market aggressively. Many enterprises has and is giving important positions to these employees, in which TRG International is a great example.
In specific, Mr. Rick Yvanovich, CEO of TRG International Viet Nam, has shown trust and given the position of Marketing Manager – one of the most important department of the company - to Mr. Pham Ngoc Khanh, 27 years old, who just got promoted to the position after 2 months of working.
"I always take challenges for the job, improve my language skills to build trust with other colleagues. My CEO is a foreigner therefore he is very fond of listening to ideas and support me all the time", Mr. Khanh expressed.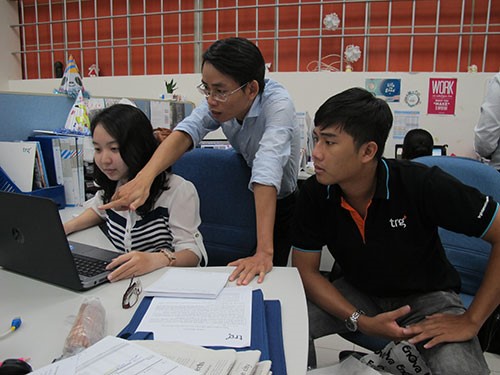 Mr. Pham Ngoc Khanh (middle) is supervising the company tasks
At the moment, many large enterprises in the world is prioritizing manager positions to young employees, TRG International also belongs to this list. Especially, companies with FDI always welcome young candidates that show their talents and capabilities for the job.
Mr. Tran Quoc Huy, 25 years old, is currently Consumer Service Manager of Profile International, one of the sub-company of Mr. Rick Yvanovich, also stated that his promotion after 1 year of working is thanks to his hard-working and distinct working spirit. "The job of looking and caring for the customers sometime require "a back door" approach of the employee, however, I always present trustworthiness and be straightforward, thus my boss always trust me to do important tasks", Mr. Huy explained.
Source: Nguoilaodong.com.vn
About TRG
TRG is a market-leading global professional services firm focused on delivering technical excellence. TRG adds value in a challenging and dynamic market by delivering the right IT solutions that work quietly and brilliantly in the background, freeing our customers up to focus on their core. We are a genuine consultant and partner who deeply understands the challenges of our customers' business and is always ready to go the extra mile to deliver exactly the right solution for them. It is not about what we sell, it is all about how we think.
Our solutions include: Financial Management (Infor SunSystems), ERP (Infor LN), Enterprise Performance Management (Infor CPM), Hospitality (Infor SunSystems for Hotels), Retail Management (Retail Pro), Virtualisation (Citrix) , and People Performance Management. To discover more about TRG, please visit http://trginternational.com