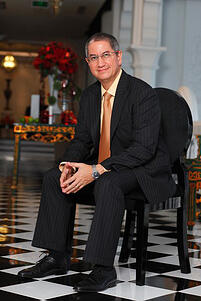 Ho Chi Minh City, 9th July 2014, Rick Yvanovich, CEO of TRG International has recently been appointed as an interim Board Member to the British Business Group Vietnam (BBGV), one of the most dynamic business groups in Vietnam. His successful appointment was announced by the BBGV last Tuesday, 1st July.
Established in 1995, BBGV has grown from its humble British luncheon meetings to become one of the leading national Chambers of Commerce in Vietnam. Currently, BBGV's mission is to facilitate value-added business links to the UK, whilst building a local reputation as a responsible community organisation for networking and social events.
"Two decades ago I helped the BBGV get started and was on the Board for a short while, now after a very long absence I am very proud and look forward to working with the BBGV all over again and helping in its continued success" said Rick Yvanovich FCMA, CGMA, FCPA, TRG's Founder and CEO.
About TRG
TRG is a market-leading global professional services firm focused on delivering technical excellence. TRG adds value in a challenging and dynamic market by delivering the right IT solutions that work quietly and brilliantly in the background, freeing our customers up to focus on their core. We are a genuine consultant and partner who deeply understands the challenges of our customers' business and is always ready to go the extra mile to deliver exactly the right solution for them. It is not about what we sell, it is all about how we think.
Our solutions include: Financial Management (Infor SunSystems), ERP (Infor LN), Enterprise Performance Management (Infor CPM), Hospitality (Infor SunSystems for Hotels), Retail Management (Retail Pro), Virtualisation (Citrix) , and People Performance Management. To discover more about TRG, please visit http://trginternational.com
About the British Business Group Vietnam (BBGV)
The British Business Group Vietnam (BBGV) has grown from its humble beginning as a few 'Brits' meeting for lunch in 1995, to become one of the most dynamic foreign business groups in Vietnam. The Group was formally established with the Vietnamese authorities in 1998 and has employed full time staff since 1998. It has subsequently had its license renewed 3 times. The BBGV now boasts more than 450 members and prides itself on its friendliness and approachability. In Ho Chi Minh City, the Group is closely associated with the annual Fun Run that the Group has organised since 2000, as part of its commitment to building linkages with the local community.